Complete Automatic Crumb Rubber Production Line Recycle Scrap Tire Machine
Fully automatic whole waste tire recycling system from waste tire to fine rubber powder:
Havtgroup Equipment is the leader in cost-effective turnkey tire recycling systems sold globally. The tire recycling systems deliver different production performance, the production line is for making TDS (tire derived shreds), wire-free chips (rubber mulch), crumb rubber, and fine rubber powder, used in variety of application worldwide.
Our intelligent fully-automatic tire recycling system includes a wide range of custom shredders, rasper, granulators, powder grinding machine. With efficiency, durability, and reliability, our equipment can process tires to generate clean rubber crumb, and finest powder for use in a variety applications such as:
Rubber mulch for pyrolysis, landscape, etc
Crumb rubber for playgound surfaces, sports filed, etc
Rubber powder for sports/turd field, asphalt, extruded rubber parts, etc
The flowchart of whole complete tire recycling plant:
Step1: to process waste tire into 50-75mm rubber block by tyre shredder
Ste2: to process rubber block into 10-30mm wire-free rubber mulch, 99% rubber mulch can be separated.
Step3:to process rubber mulch into 1-5mm rubber granule, and remove nylon fiber from rubber
Step4:The rubber granule be processed into fine rubber powder 30-120mesh.
We will according customer requirement to design machine for customer.
The intelligent fully-automatic tire recycling plant use Siemens PLC control system, fully-automatic tire recycling production line, easy to operate.
Cooling syystem, dust remove system. Eco-friendly, no any pullution, low noise.
Flowchat of whole tire recycling plant: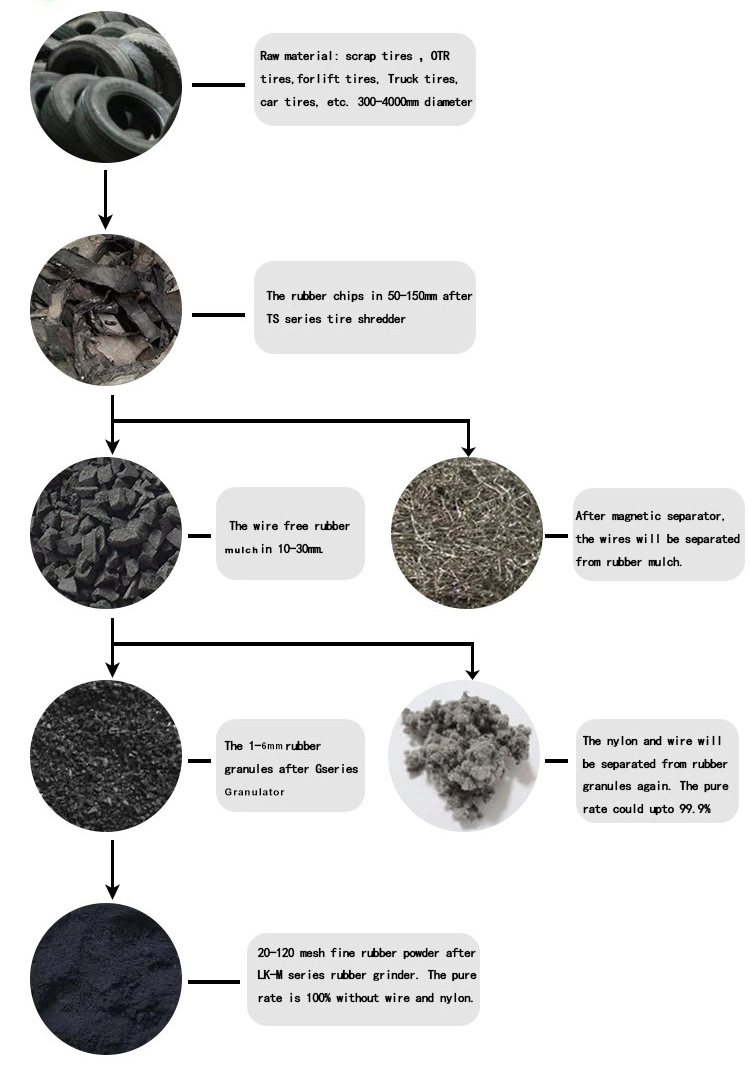 Detailed machines in whole tire recycling plant:
Step 1. Double tire shredder
It to designed to shred whole tire into rubber blocks, 50-150mm as request. Can process OTR tire, truck tire, car tire, tractor tire,etc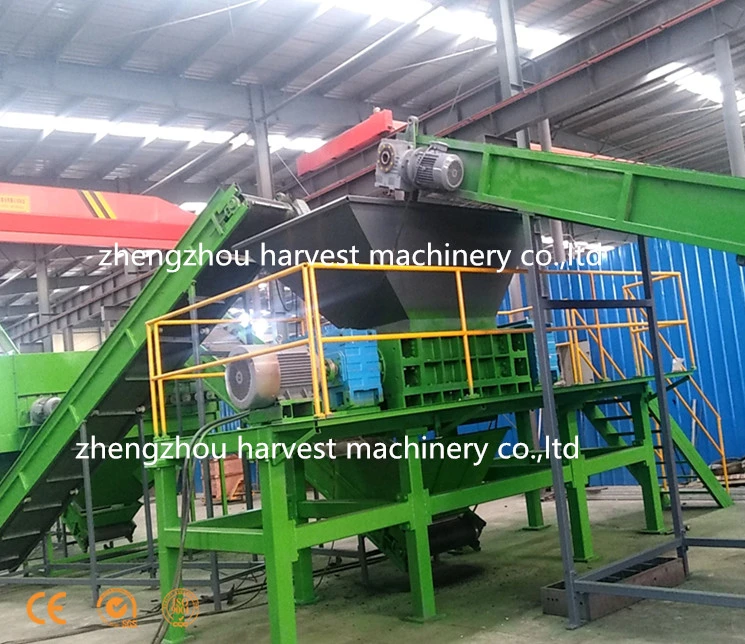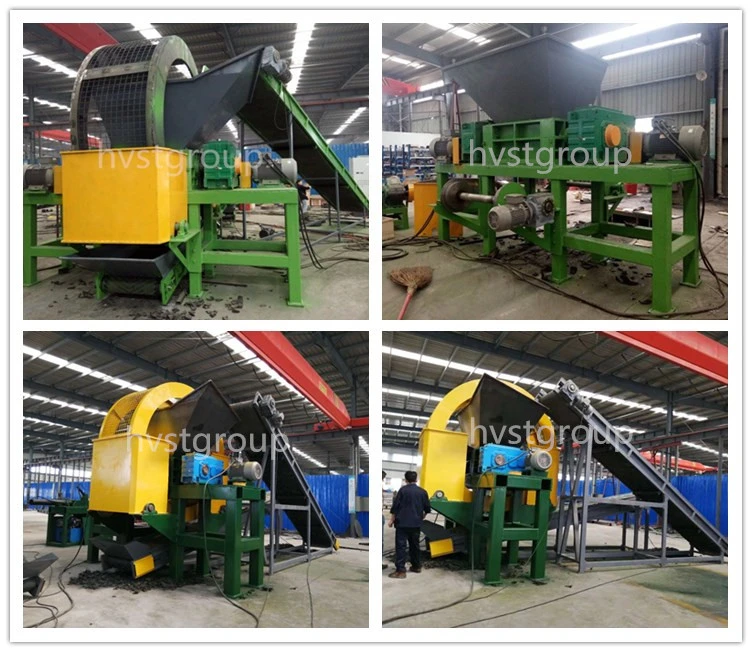 Model

Input size

Output size

Capacity

Motor

Blades quantity

Dimensions

Weight

TS-800

50*50mm

1-2T/h

2*22kw

16pcs

4x2.6x3.2m

8T

TS-1200

1200mm

60*60mm

3-5T/h

2*37kw

20pcs

4

.8x2.

8

x

3

.

5

m

14T

TS-1600

1600mm

50-150mm

6-8T/h

2*45kw

16-30pcs

5x2x3.4m

18T

TS-1800

1800mm

50-150mm

7-10T/h

2*55Kw

20-24pcs

5.6x2x3.4m

23T

TS-2000

2000mm

75-200mm

10-15T/h

2*75kw

20-30pcs

6x2.4x4m

36T

TS-2400

2400mm

100-200mm

20-30T/h

2*110kw

16-24pcs

7.4x3.2x5.2m

56T
Disc screening machine:


the larger rubber blocks will be return back to tire shredder to shred agin, the smaller rubber block will conveyed back to rasper machine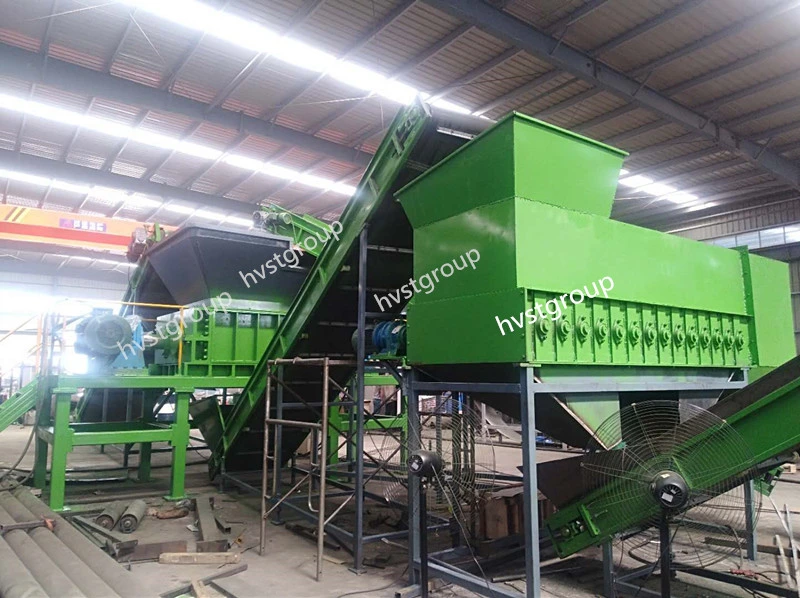 Step 2.Rasper
It is specially designed to remove wire steel from tire, and process the rubber chips from tire shredder into 10-30mm rubber mulch. The steel was removed by rasper machine and attracted by magnetic separating system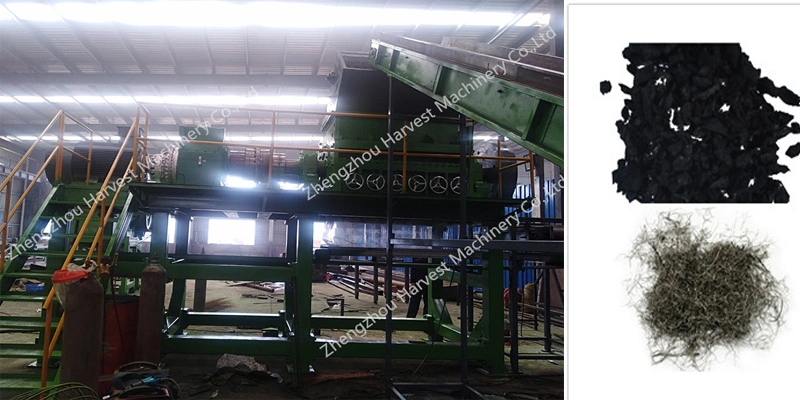 Model

R-315

R-132

R-90

R75

R55

R45

Capacity

3-6t/h

1.5-3t/h

1-1.5t/h

700kg-1t/h

500-700kg/h

300-500kg/h

Poder

315kw

132kw

90kw

75kw

55kw

45kw

Weight

2400kg

6100kg

4200kg

3500kg

1850kg

1700kg

Voltage

As request

Size

10-30mm wire free rubber mulch
Step 3. Granulator
It is designed to process the rubber mulch into 1-6mm rubber granule as request, and separate the nylon fiber from rubber granule.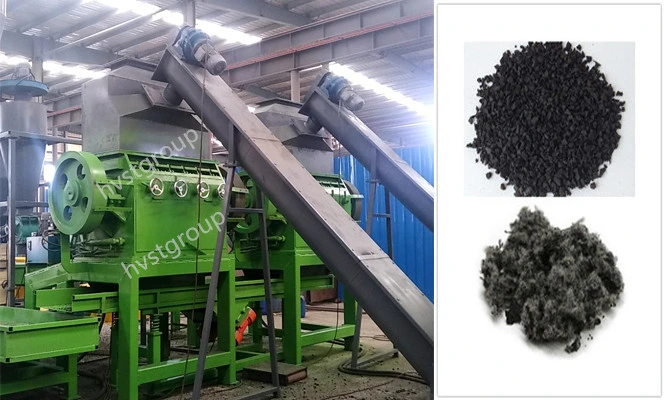 | | | | |
| --- | --- | --- | --- |
| Model | G-90 | G-45 | G-37 |
| Power | 90kw | 45kw | 37kw |
| Capacity | 800-1500kg/h | 500-800kg/h | 300-500kg/h |
| Final size | 1-6mm | 1-6mm | 1-6mm |
| Weight | 5600mm | 3300mm | 2950mm |
Step 4. Miller(rubber powder grinding machine)
It is designed to process the rubber granule into fine rubber powder 30-120mesh as request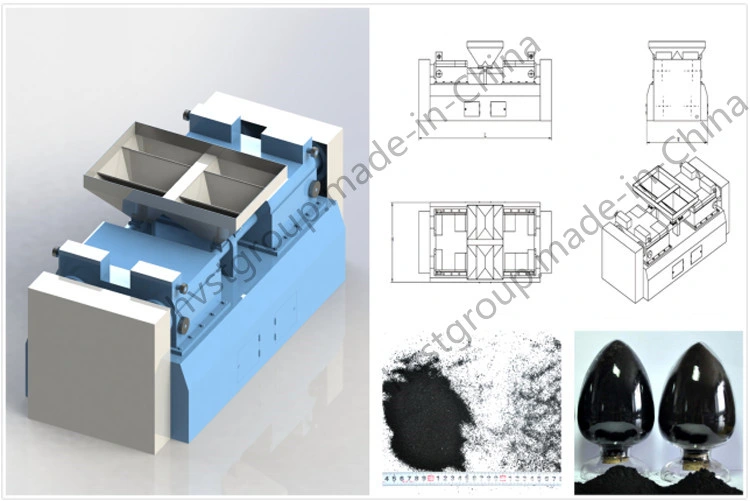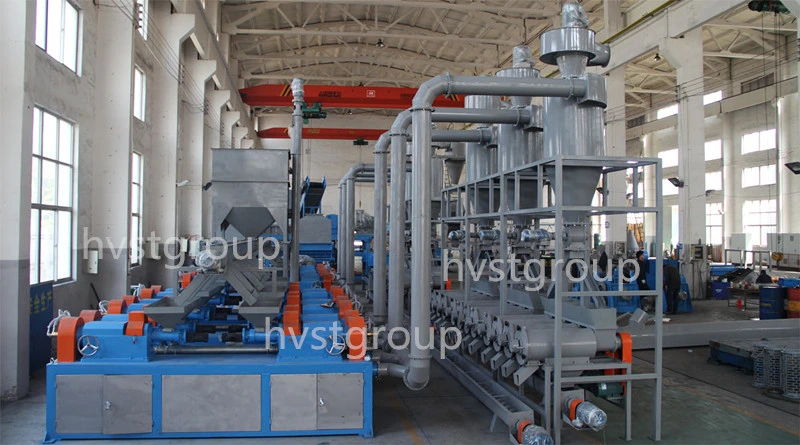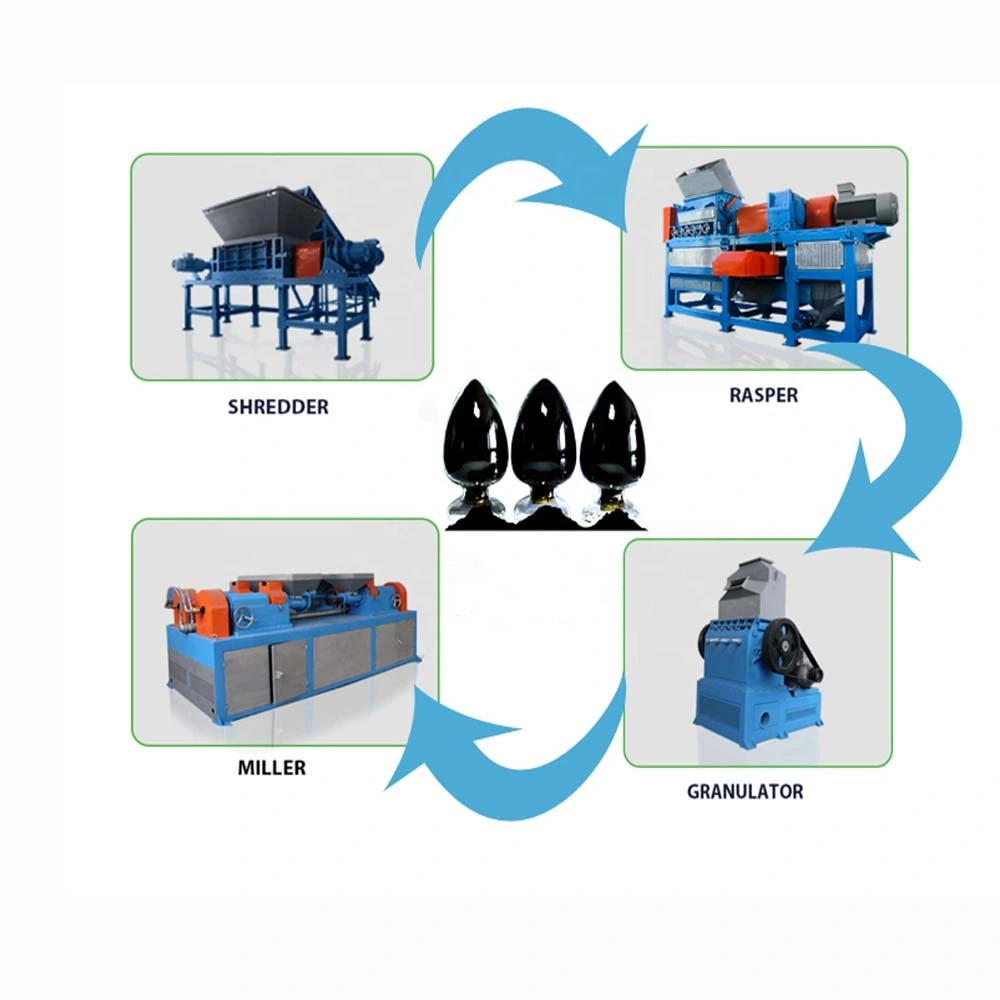 Company:
We has been focused on designing and manufacturing equipment for the recycling industry more than 20 years and is emerging as a leader in providing cost effective turnkey tire recycling systems. Our main focus is to provide custom designed tire recycling systems that deliver optimum production for a variety of applications such as TDF (Tire Derived Fuel), rubber mulch, and rubber granule(crumb), rubber powder. We have manufactured and installed recycling systems in countries all over the world.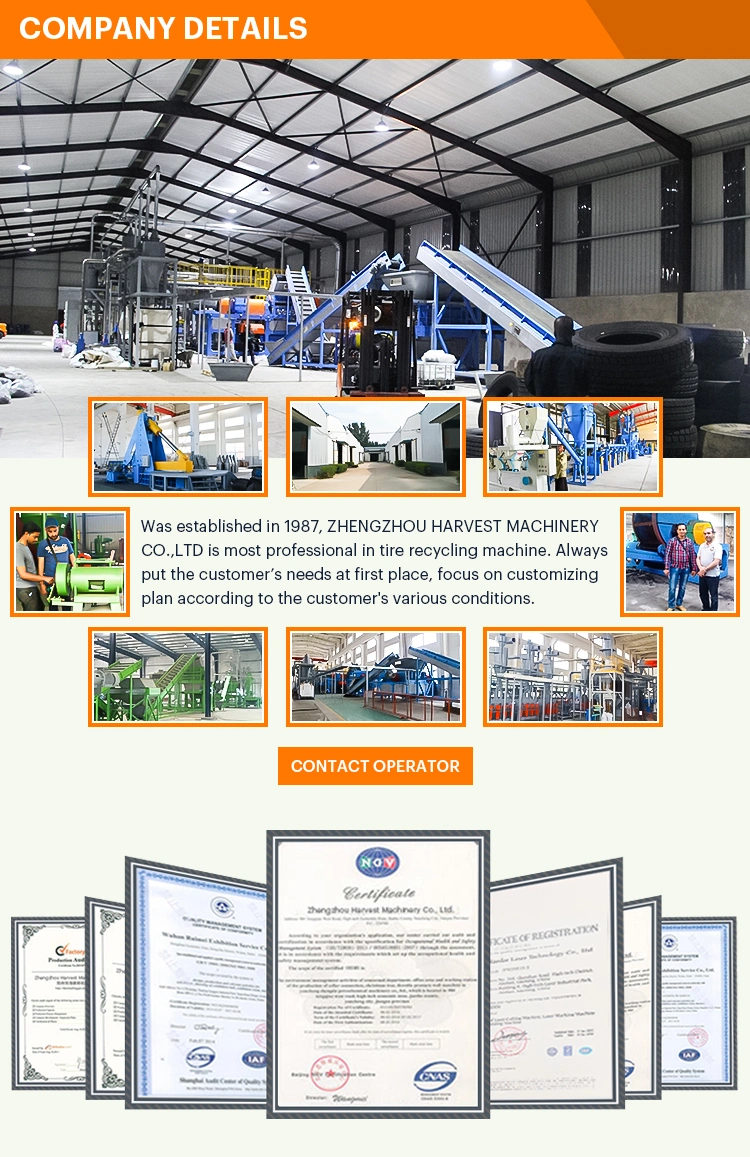 Packing and delivery: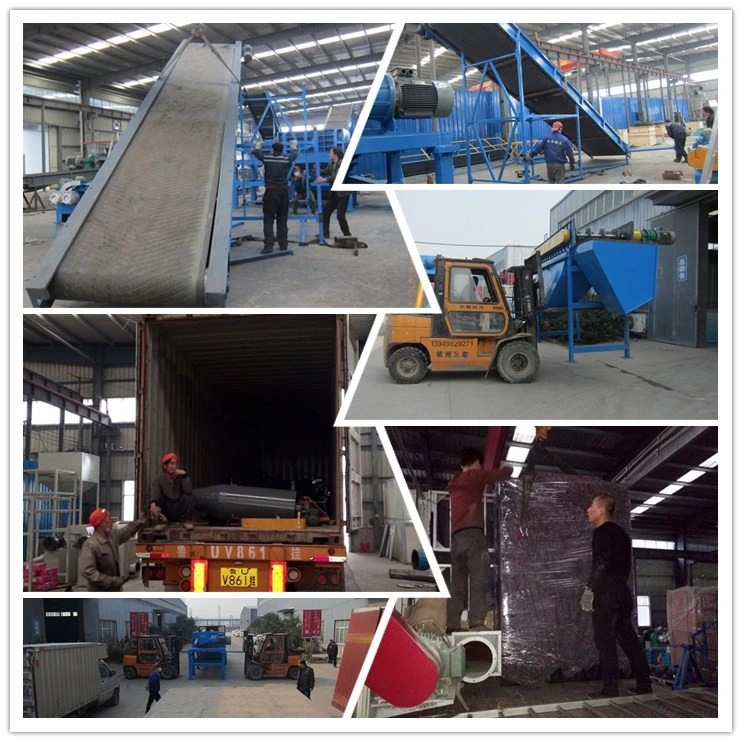 Service:
Before-sales service:
1. Technical proposal
2. Answer questions within 8 hours
3. Tested machine
After-sales service:
1. Install and debug machine, train workers
2. Free spare parts within gurantee period
3. Long time technical support when production process
FAQ:1) Are you a factory or trade company?
We are professional recycling line machine factory, professional design engineer, experienced production team, advanced manufacturing and processing facility. You can get good technical support from us.
2) How can I trust your company?
a. famous brand component as our standard configuration, like Siemens Motor,Siemens PLC and Schneider component. All parts use high quality material and precise processing
b. Assessed by third party-national test centre. national patents,SGS, CE, ISO certificate
c. Welcome to visit our factory to check at any time, We're at Zhengzhou, Henna, China
3) How about the test running & installation?
Before shipping out your machines, we will invite you to come to test your machines, when you are satisfied; we start to pack and delivery.
We will dispatch our enginne to your country to help you to install and debug the machine, as well as training your workers.
4) How about the warranty?
Under the proper usage, 1-3 year for whole machine, we provide long-time after sales service for our customer.
For more information, please feel free to contact us:

Tel/Whatsapp/Wehat: 86 18238829088