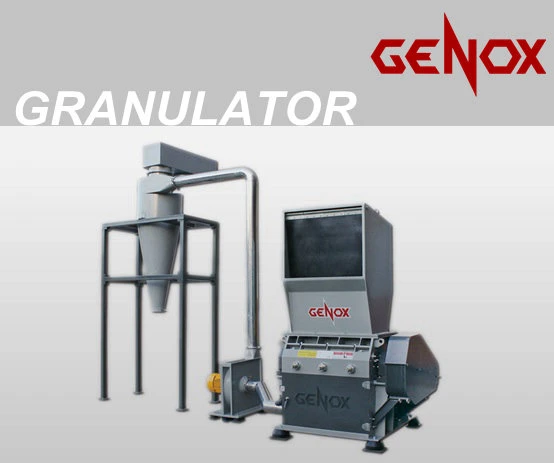 GENOX Granulator
GC Series Granulators are high speed granulation machines designed especially for the
efficient size reduction of various materials in a single pass. These machines are ideal for
processing a multitude of materials including plastics, rubber, fibers, copper cable and light
non-ferrous metals amongst others.
These machines are characterised by their high efficiency, reduced power consumption
and low noise, sound proof designs.
Driven by a powerful motor, the rotor blades spin at high speed, cutting the feed material
into smaller pieces as they interact with the two rows of fixed blades.
For processing different materials, special rotor designs, including V,S,C $ CS
configurations can be specified. Manufactures from heat treated AISI D-2 high alloy material, the blades demonstrate excellent wear properties. The advanced,
precision machined rotor improves cutting efficiency and facilitates easy maintenance,
reducing down time during blade changes.
Specifications
| | |
| --- | --- |
| model | GC1000 |
| Dimension L X W X H(mm) | 1330×1630×2290 |
| Hopper opening W X H(mm) | 960×615 |
| Rotation diameter(mm) | Φ420 |
| Rotor operation length(mm) | 1000 |
| Rotation speed(rpm) | 580 |
| Standard screen (mm) | Φ12 |
| Rotor knives (pcs) | 3×2 |
| Counter knives (pcs) | 2×1 |
| Drive power (kW) | 45 |
| Weight (kg) | Approx 3500 |
Standard Features
· Compact design minimizes on-site space requirements
· Inclined, split cutting chamber design
· Oversized, outboard spherical rotor bearings prevents bearing damage due to
product migration
· Precision machined rotors (Forward set V-Rotor as standard)
· Replaceable wear plates at either end of the rotor shaft
· Standard machines are prepared for air extraction
· Stand Alone Electrical Control Panel - using quality Schneider (Telemecanique)
components and Siemens PLC's
· Tested, Approved and Certified to the applicable CE safety standards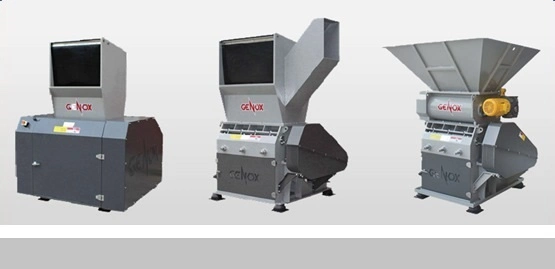 Certification
We awarded 50 utility model patents and 3 invention patents.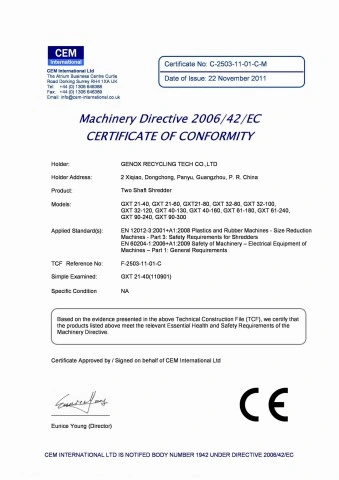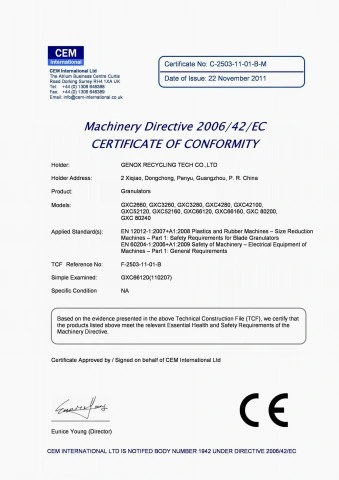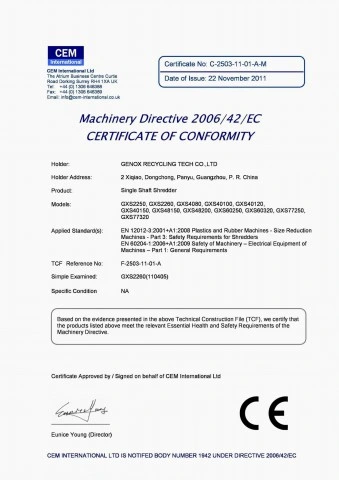 FAQ
1.Question:Will we provide pre-sale services ?
Answer:Genox consists of experienced specialists, we will offer a suitable solution according
client's requirement in time.
2.Question:Is our after-sales service excellent ?
Answer:Genox's skilled technicians are available to assist with onsite installation,
commissioning & training on request. This will enable customers to optimize the performance of
their new plant. Customers will be briefed on all aspects relating to operation and maintenance
by a Genox technician. Dimensional drawings together with service requirements will be provided
prior to delivery of the equipment. This will allow the customer to prepare the site and allow
them to commence production in a timely fashion.
Genox holds a adequately inventory of spare parts and their efficient service personnel will
ensure that any required part will be dispatched without delay. Delivery of the spare parts
may be by air, sea or courier depending on the urgency of the situation. Customers are
encouraged to hold their own critical spare parts such as granulator blades and screens to
ensure optimal machine condition and performance.
3.Question:Will we provide technical support ?
Answer:Genox provides enough hardware resource especially for large-scale production lines,
clients can carry out installation, commissioning and acceptance before delivery.
Contact Detail:


Telephone:86-20-66851346
Fax: 86-20-66851347

Address:Xiqiao, Dongchong Panyu, Guangzhou, Guangdong, China 511453


Welcome to contact us at any time We will reply you within 24 hours