Tire Cutting Machine, Tire Shredding Machine, Tire Shredder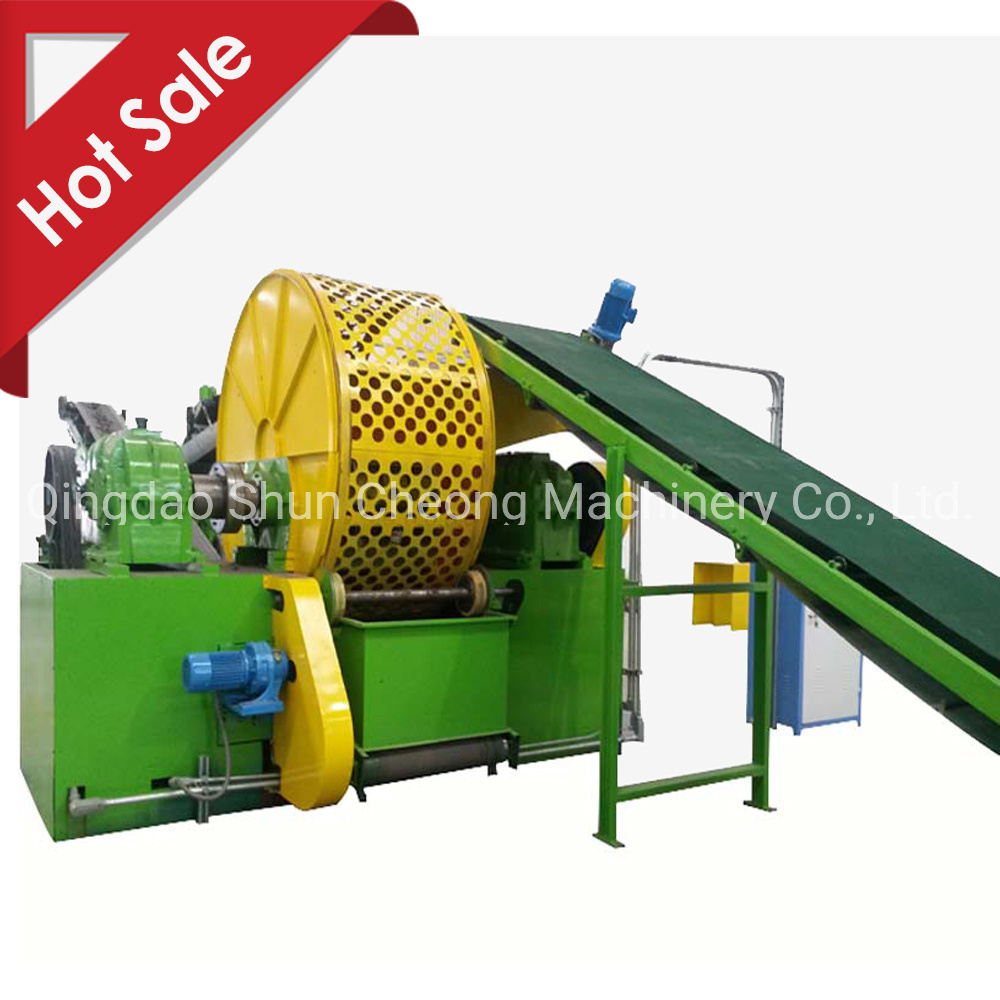 Feature:
This machine is a compact structure, advanced technology, low energy consumption, high efficiency, smashing off the test room for the structure, maintenance is particularly convenient; tools with carbide surfacing technology, high hardness, high wear resistance, and repeated repair using, so has a longer service life; rotary screen for the lattice structure of steel mesh, blanking large area, enabling the screening of qualified rubber. After the partition of large tires can achieve the effect of the same!
Mechanical description: the tires of 800mm diameter and rubber ring can directly be broken into 50*50 mm of rubber block.
Notes for using whole tire shredder:
a. Inject gear oil into gearbox oil (hypoid gear oil), main bearings use calcium-based grease lubrication, three months after the operation of the machine, the oil should be replaced and clean the fuel tank. Since then change the oil once time every year.
b After deal with 3,000 tons of waste rubber (in normal circumstances),the buyer should grind the blade cutting edge once time. The blades is the wear parts, the general service life is 5-6 years, when delivering the machine to the buyer, the shredder will be equipped with edge hardness layer patching material (electrodes).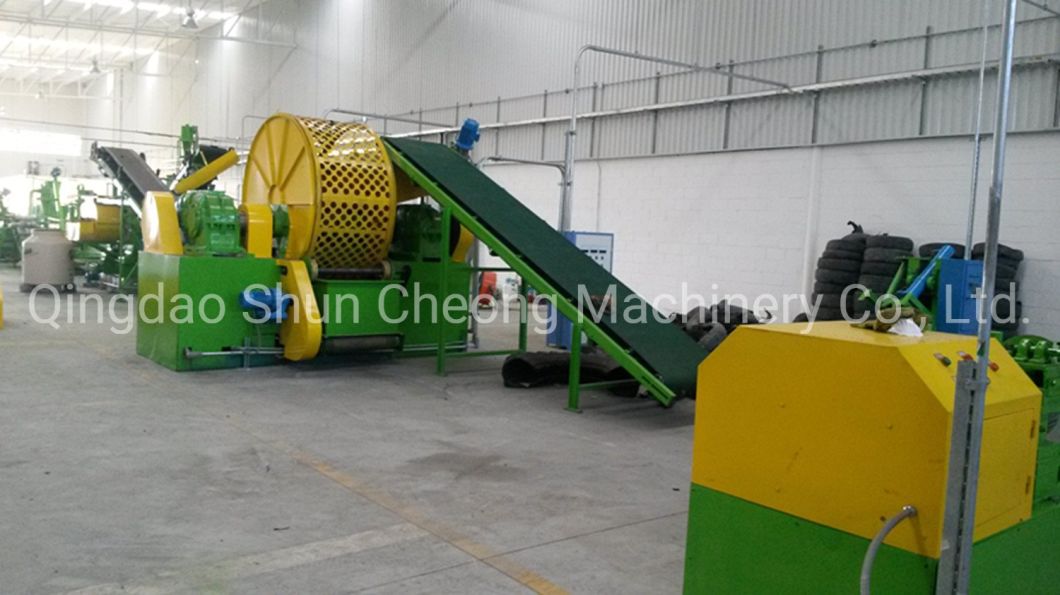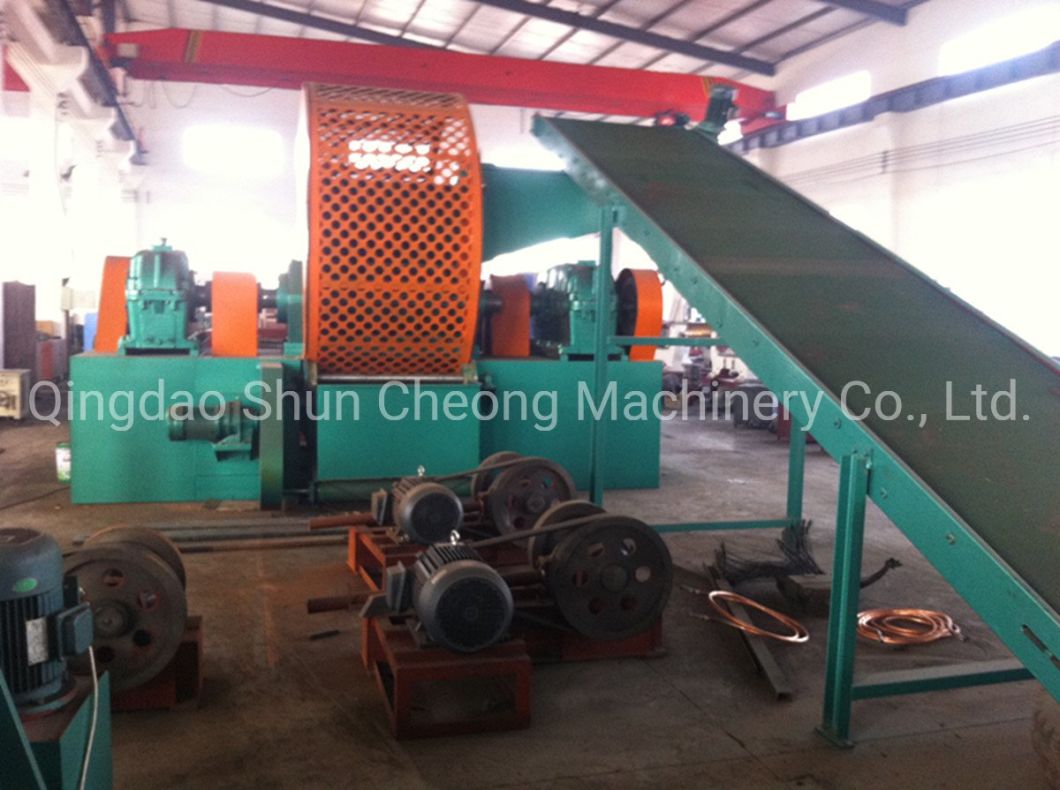 For the waste tyres recycling system, we have 2 system for you to choose from, one is semi-automatic recycling system ,another system is high automatic recycling system.
1. Semi-automatic recycling system
Waste Tires-Ring Cutter-Press loop Machine-Strips Cutter-Blocks Cutter-Rubber Crushing Mill-Oscillating Screen, Conveyor Belt, Magnetic Plants-Fiber Separator(Rubber Granule Diameter between 1.7mm~0.55mm) -Fine Rubber Powder Pulverizer-Rubber Powder(Rubber Powder Diameter Between 0.55mm~0.12mm)
2. High automatic recycling system.
Waste Tires-Single Hook Debeader-Tire Cutter-Whole Tire Shredder-Rubber Crushing Mill-Oscillating Screen-Fiber Separator(Rubber Granules Diameter 1.7mm~0.55mm)-Fine Rubber Pulverizing Machine-Rubber Powder(Small Rubber Granules Diameter 0.55mm~0.12mm).
For the whole recycling recycling sytem, we can design a suitable system exactly according to your detailed requests.
No.
Name
Model
Qty.
(Qty)
Motor Power (KW)
1
Single hook debeader
LSJ-1200
1
11
2
Whole tyre cutter
QDJ-1200
1
5.5
3&4
Whole tyre shredder
(with conveyor)
ZPS-900
1
61.5
5
Double Rolls
Rubber Crusher
XKP560
1
75
6
Big conveyor equipment
BCL-8
1
2
7
Small conveyor equipment
BCL-3
1
1.1
8
Big Magnet separator
BMS22
1
2.2
9
Small Magnet separator
SMS-1
1
1.1
10
Big Shaking screen
BSS-8
1
7.5
11
Small Shaking screen
SSS-3
1
3
12
Fiber separator
FS110
1
5.5
13
Fine Rubber Powder Pulverizing Machine
XJFS-420
1
29.25
14.
Vibrating screen
1
0.75