Top Quality Waste/Scrap/Used Rubber Granules Recycle Line for Tire Crushing
Additional Function than Wire Free Mulch Plant: To further grind the 10-20mm wire-free mulch to 1-6mm wire-free, 99.9% fiber free rubber crumbs. This is the third stage in size reduction.
More Details
Rubber crumb is the third step in Shredwell tire recycling process. At this stage, wire free chips from rubber mulch plant(TS tire shredders working with RR rasper)are processed into around 0-5mm rubber granules with fiber removed by vib-screen and zig-zag classifier. During this process, the crumb rubber granulates are shred and potentially re-circulated, leaving a clean, uniform rubber granulate around 99.9% clean.

Crumb rubber have numerous uses - like rubber crumb are widely used in sports field, like running track, artificial grass, playground or rubber tile which is widely used in gym, walking street, stud-farm or playground etc, many athletic fields and sporting surfaces utilize crumb rubber as a soft and absorbent layer. Also lots of rubber modified asphalt roadways and rubber sealants also use crumb rubber as a main ingredient. The recovered steel can be melted and reused. Textile has a very high effective burning value and can therefore be mixed with other materials in order to increase that material's effective burning value.

Tire recycle line output contains steel, fiber and clean rubber crumb. Processors are able to sell to buyers or continue processing for additional material outputs.
Technical Specification
Rubber Crumb System

TSC4000

TSC2000

TSC1000

TSC500

TSC300

Input Product

Heavy Duty Truck Tyres To Bicycle Tyres

Input Size

Diameter≤1800mm

Diameter≤1600mm

Diameter≤1300mm

Diameter≤1200mm

Diameter≤800mm

Output Size

Shred to 1-6mm rubber granule

Capacity

2-4T/h

1-2T/h

0.5-1T/h

300-500kg/h

≤300kg/h

Total Kw(based on 50-60 Hz)

674-768Kw

574-654Kw

350-399Kw

228-253Kw

184-204Kw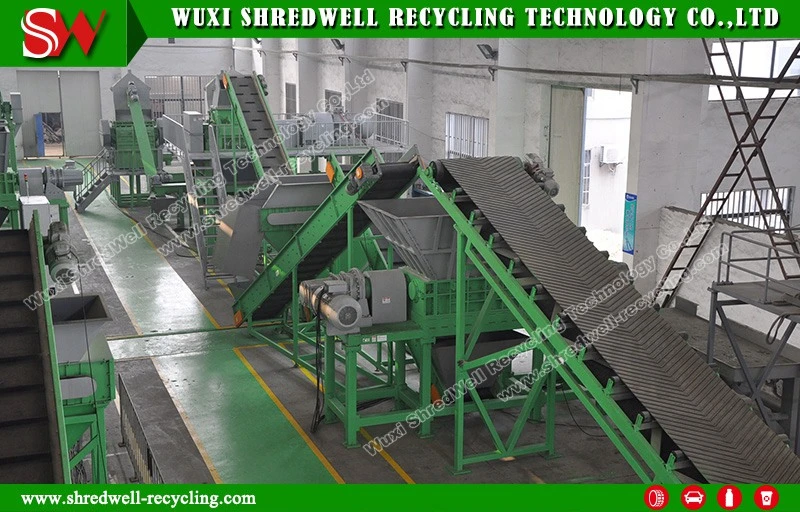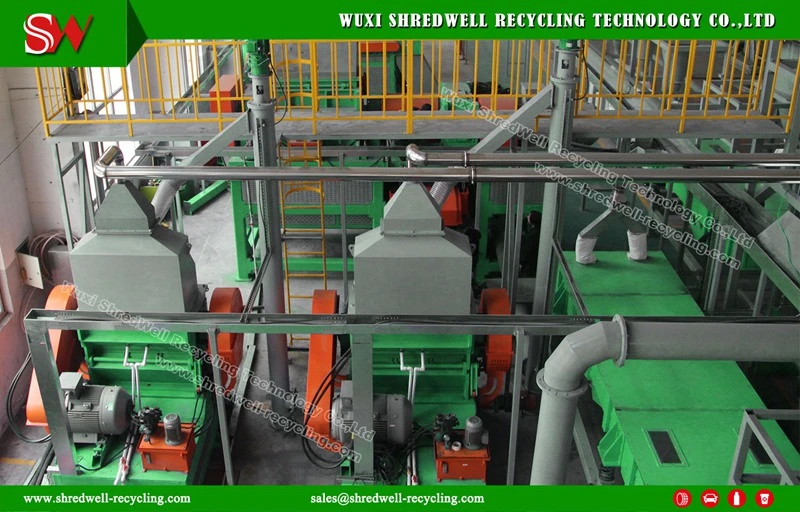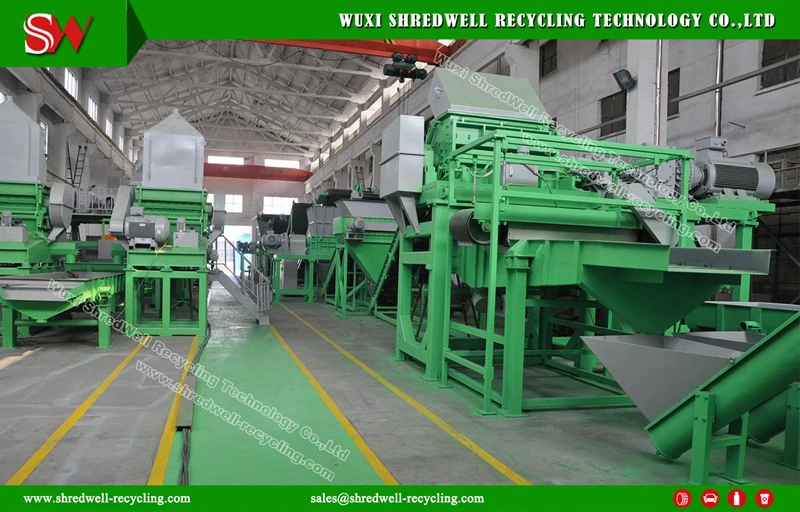 Proposal & Quotation
For making a complete proposal and quotation for you, we need to know more about your projects.

1. What's the input sizes of your tires?
2000mm-4200mm in diameter tires ( like OTR, etc.)
800mm-1200mm in diameter tires ( like truck tire, etc.)
400mm-800mm in diameter tires (like car tire, bus tire, etc.)

2. What's your goal output sizes?
50-150mm rubber chips (Used in like fuel, road application, etc)
10-20mm wire free rubber mulch (Used in like plantground, plant mulch,etc)
1-5mm wire-free and nylon-free rubber crumb (Used for like making pavement bricks, running track, rubber tile, etc)
30-120mesh wire-free and nylon-free rubber powder (Used as like roofing materials, modified asphalt addictive, reclaiming rubber, waterproof coil, etc )

3. How many tons per hour do you need this system to process?
The throughput as per your request.
Workshop Of Shredwell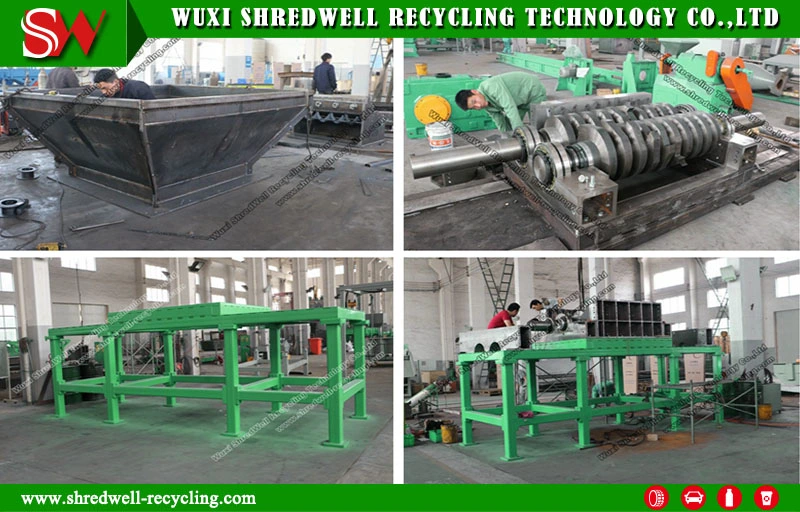 Our Support
1. Pre-sale support
*Shredwell is composed of experienced specialists, our sales are engineers too, we will offer a suitable solution according client's requirements in time and 24 hours service is probided.
*On-site inspection on request

2. After-sale service
*Production process follow up, on-processing products' pictures and technical report are supplied regularly to make sure the contracted production schedule.
*Shredwell skilled technicians are available to assist with onsite installation, commissioning & training on request. This will enable customers to optimize the performance of their new plant. Customers will be briefed on all aspects relating to operation and maintenance by a Shredwell technician. Dimensional drawings together with service requirements will be provided prior to delivery of the equipment, which make time for our customer to prepare the site and commence production in time.
Packing and delivery
1. A layer of plastic wraps to protect machines from dust, moisture and corrosion.
2. Wooden case is used as the outside package. Or according to the customer requirements.
3. Excellant logistic team to guarantee the shredder machines to be safely shipped to customer warehouse, no extra fee on export or import on custom.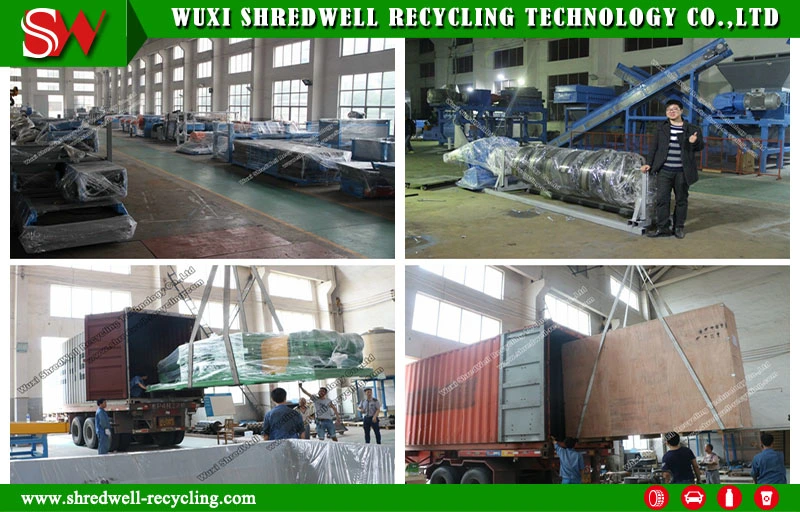 Company Introdution
Wuxi Shredwell Recycling Technology Co.,Ltd is an integrated enterprise that is committed to developing, designing, manufacturing, selling and installing shredding recycling machinery. Our equipment is based on self-owned intellectual property and has advanced European and American technology.

Shredwell has now been in the shredding and recycling industry for more than 10years. Our engineering team has around 15 years experience in designing and manufacturing tire shredding machine systems. Our workforce has more than 5 years experience in manufacturing shredding machinery. Our company has advanced technologies, anexperirenced workforce and excellent innovative management systems designed to manufacture safe, energy-saving, stable and reliable shredding machine systems.

Shredwell is located in Wuxi, China, covering an area of more than thirty thousand square meters, and has a modernized technology center and all kinds of processing and testing equipment with more than 100 experienced staff including over 30 professional engineers. Our main focus is to provide our customers cost-effective tire recycling systems ranging from TDS system(50-100mm output chips), TSM system(20mm output wire free chips), TSC system (1-5mm rubber crumb), TSP system(30-120mesh rubber powder).

Our experienced after-sales service team can ensure the most timely installation, testing and training in the customer's workshop. Our mission is to provide our customers the best recycling solutions with high quality service and technology.

You're sincerely welcome to visit our factory and contact us for sending you project proposals.
We're in Wuxi whose train station is one hour away from Shanghai.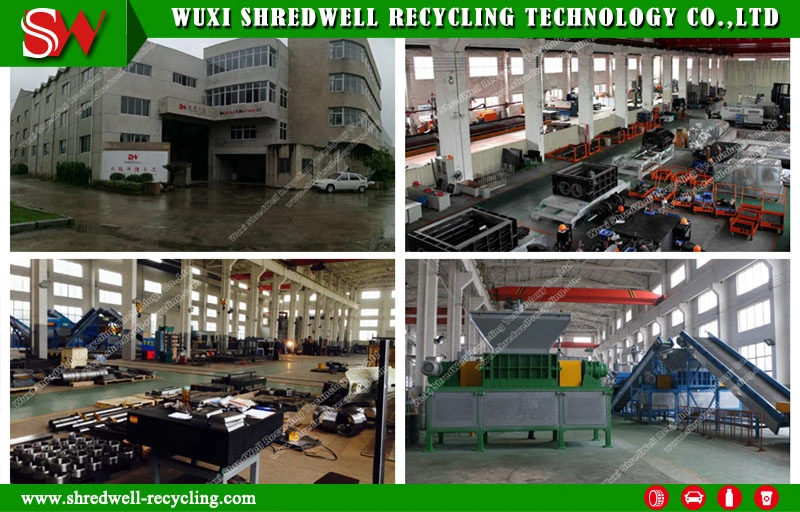 FAQ about Shredwell
1) Are you a factory or trade company?
We are professional recycling shredder factory with the modernized management and quality control system, experienced production team, advanced manufacturing and processing facility.Export proportion around 50%. .

2) How can I trust your company?
a. Modernized management and quality control system, experienced production team, advanced manufacturing and processing facility.
b. Famous brand component as our standard configuration, like Siemens Motor, Tongli or SEW reducer, Siemens PLC and Schneider component. All parts processing by CNC machining to warranty the precision.
c. Assessed by third party-national test centre. national patents for all equipment, also CE, ISO.
d. Welcome to inspect anytime. We are near to Shanghai airport.
e. About the machine, we do much better on:Wear plates, seals, structure design, pressure head.

3) How about the test running & installation?
Before the order, welcome you to come to testing all machines in our factory, we have ready machines all the time.
Before shipping out your machines, we will invite you to come to test your machines, when you are satisfied; we start to pack and delivery.
We will send our enginner team(At least one mechanical engineer and one electrical engineer) to your country to help you to install the machine, and commission as well as training your workers.

4) Your warranty?
Under the proper usage, 1-3 year for whole machine.

5) Is your price competitive?
Only good quality machine we supply. Surely we will give you best factory price based on superior product and service.
Some shredders are less expensive than ours, but to get a true expense picture you need to consider total cost, which includes the plants' longevity as well as your lost production if they malfunction.