used waste tire recycling machine crumb rubber machine tyre shredder machine price old tyre crushing machine
We has been focuse odn designing and manufacturing equipment for the recycling industry more than 20 years and is emerging as a leader in providing cost effective turnkey tire recycling systems. Our main focus is to provide custom designed tire recycling systems that deliver optimum production for a variety of applications such as TDF (Tire Derived Fuel), rubber mulch, and rubber granule(crumb), rubber powder. We have manufactured and installed recycling systems in countries all over the world.
Our core strength is as a machinery and component producer. Thus we are an ideal partner for tire recycling systems integrators and OEM projects. We remain committed to the improvement and development of size reduction machinery. The tire recycling machine product consists of four main machine parts: shredders, rasper, granulators, and miller.
For process various waste tire, the tire can be processed smaller size as your request.
From first step tire shredder, the waste tire was processed into rubber blocks;
From second step rasper machine, you can get smaller rubber chips 10-30mm as request, and the wire steel was separated;
From third step granulator, you can get smaller rubber granule 1-6mm, and the nylon was separated;
The last step miller, you can get fine rubber powder.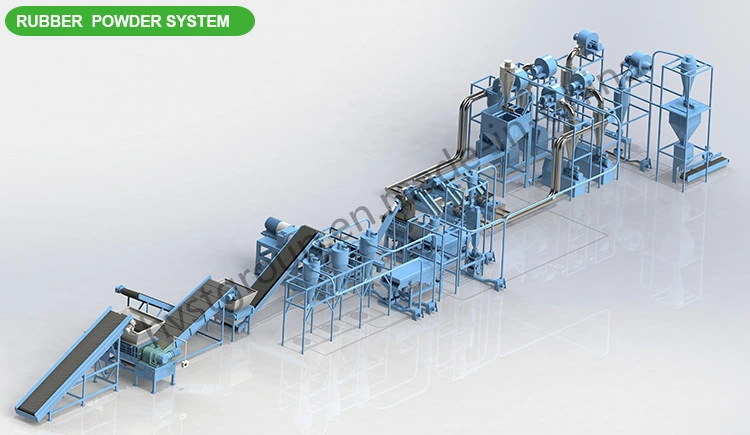 Flowchart of the whole tire recycling machines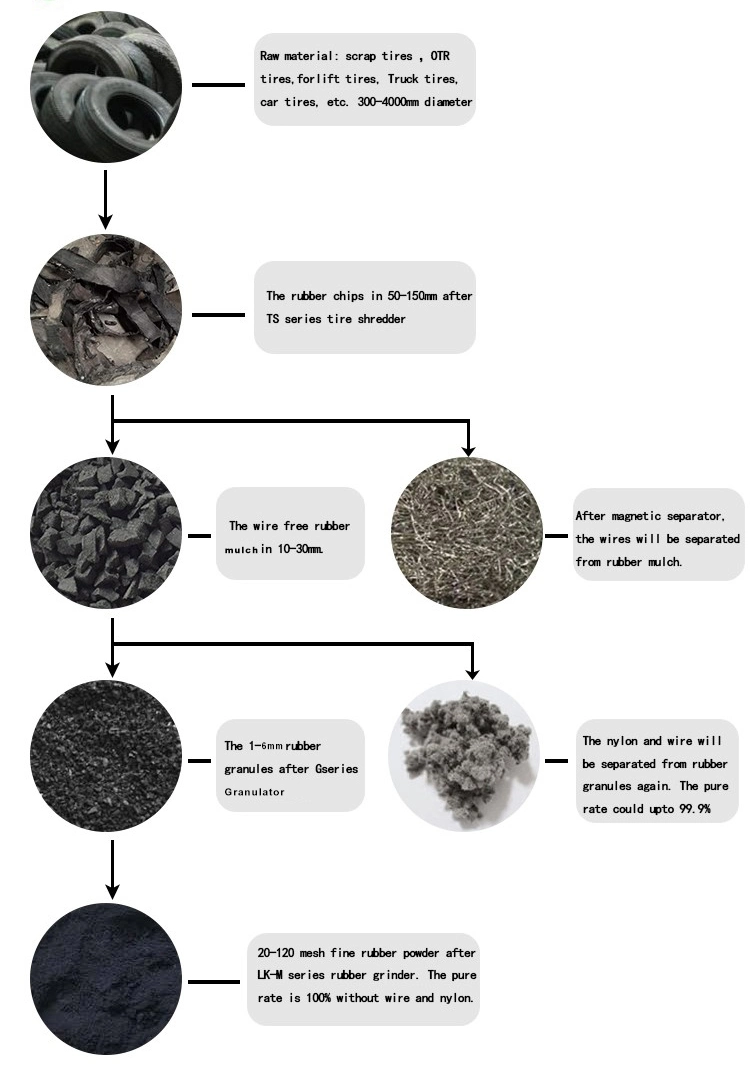 Pictures of the main machines in tire recycling.
TIRE SHREDDER
:
Used to shred the whole tires into rubber blocks. Double shaft shredders are designed with an aggressive low RPM, high torque shredding technology. As the primary shredder it quickly and easily shreds tires into rubber blocks ready for further processing. The input can be car tires, truck tires and OTR tires.

RASPER
:
It can process and produce 10-30mm wire free chips, the steel wire will be separated by rasper and attracted by magnet.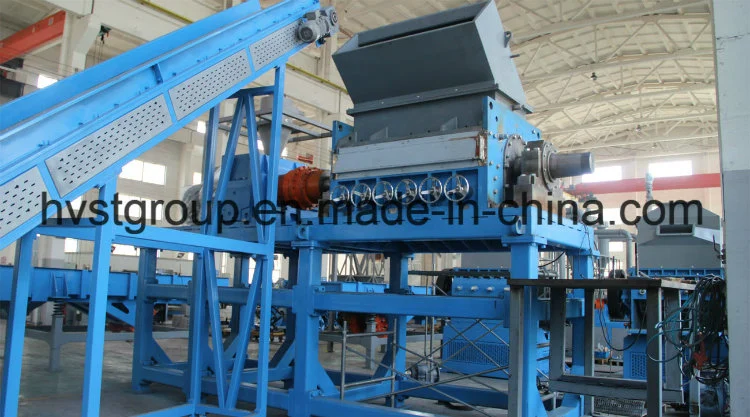 GRANULATOR
:
It is designed to grind the rubber mulch from the rasper into small granules as fine as 1mm. The granules are screened and re-circulated until the desired size is reached.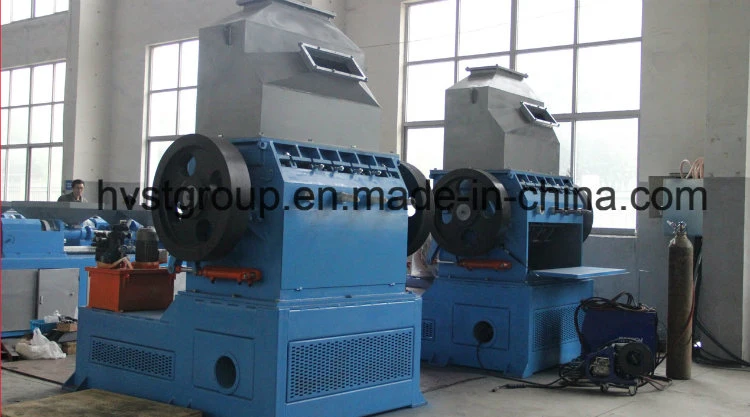 RUBBER POWDER MACHINE(MILLER)
It designed to grind rubber granule into 30-120mesh rubber powder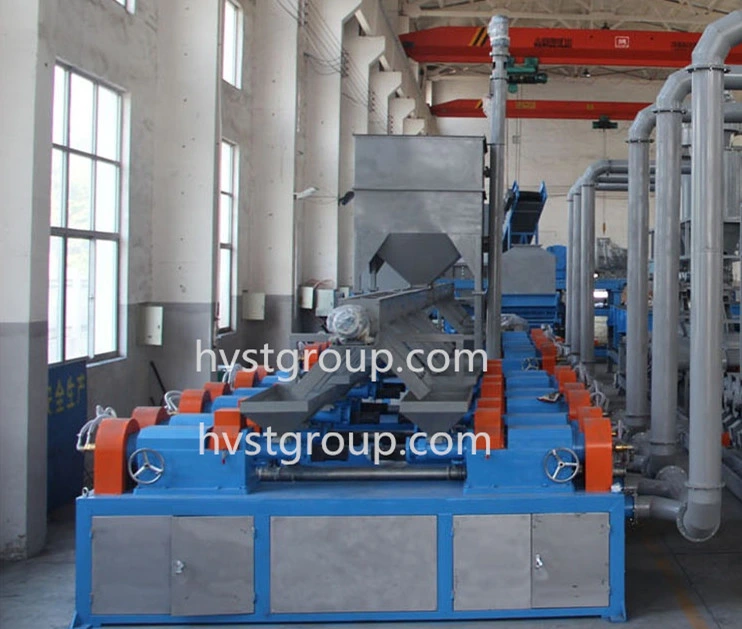 Application of the final rubber material: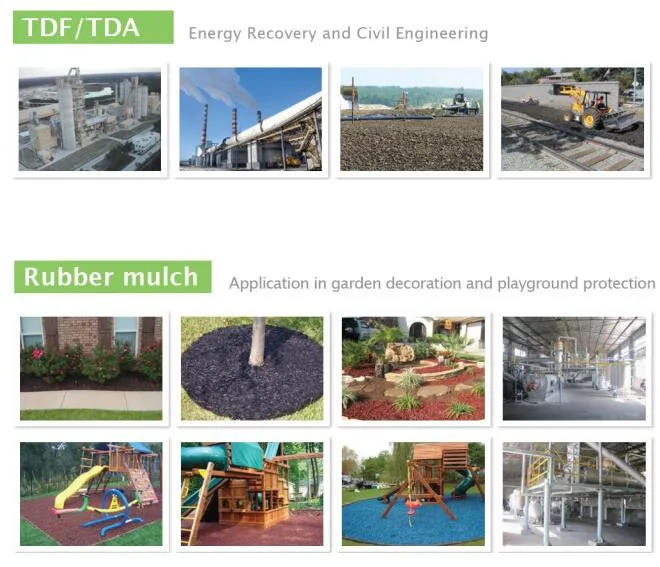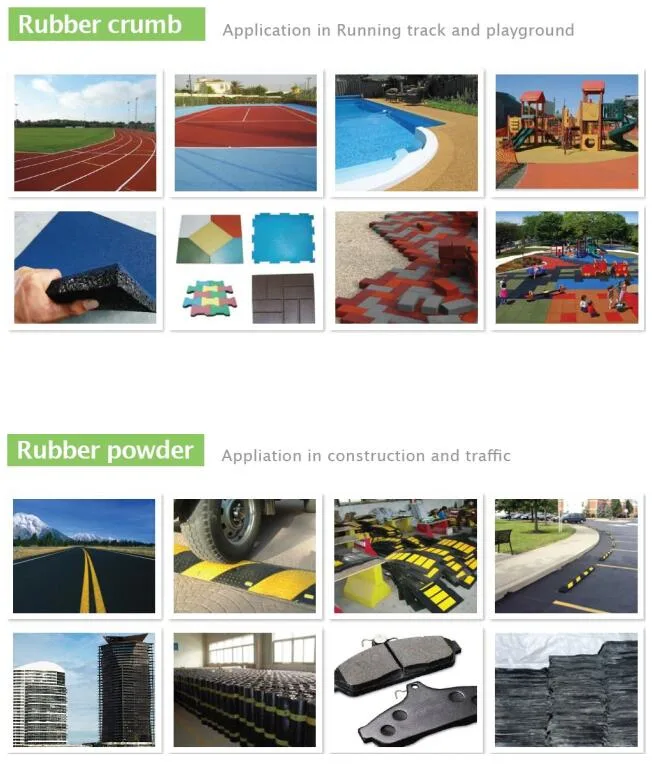 Our Company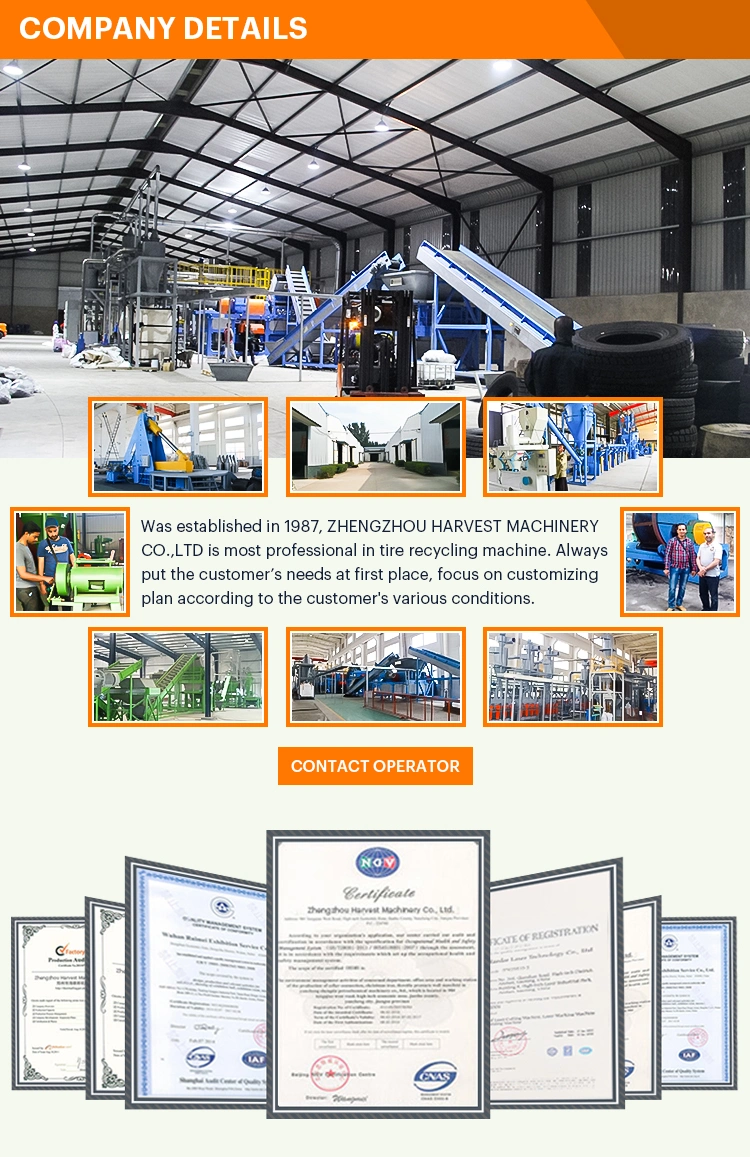 Service:
Before-sales service:
1. Technical proposal
2. Answer questions within 8 hours
3. Tested machine
After-sales service:
1. Install and debug machine, train workers
2. Free spare parts within gurantee period
3. Long time technical support when production process
FAQ:
1) Are you a factory or trade company?
We are professional recycling line machine factory, professional design engineer, experienced production team, advanced manufacturing and processing facility. You can get good technical support from us.
2) How can I trust your company?
a. famous brand component as our standard configuration, like Siemens Motor,Siemens PLC and Schneider component. All parts use high quality material and precise processing
b. Assessed by third party-national test centre. national patents,SGS, CE, ISO certificate
c. Welcome to visit our factory to check at any time, We're at Zhengzhou, Henna, China
3) How about the test running & installation?
Before shipping out your machines, we will invite you to come to test your machines, when you are satisfied; we start to pack and delivery.
We will dispatch our enginne to your country to help you to install and debug the machine, as well as training your workers.
4) How about the warranty?
Under the proper usage, 1-3 year for whole machine, we provide long-time after sales service for our customer.