Waste Tire Recycle Machine for Scrap Tyre Shredding Equipment
Our factory is professional in designing and manufacturing tire shredder and recycling system for more than 10 years. Our systems are installed all over the world including USA, Poland, South Africa, Italy, India, Israel, Japan, South America, Ukraine etc.



Shredwell tire recycle machine is designed for effective pre-shredding and size reduction of a wide variety of tough to shred materials. Based on our advanced innovative technology and more than 15 years' manufacturing experience in recycling industry, Shredwell has been proved as the most reliable tire cutter provider in China.

Main features:
*Low speed, high torque rotor enabling processing of tough materials;
*Blades available in different steel qualities providing the optimum solution for processing of your specific material. With more than 13 steps of process procedures guarantee the blades precision and high quality;
*It's powered by Siemens motor and power unit enabling automatic reverse for overload protection thus minimizing blades damages;
*Individual electrical control panel with Siemens PLC control system ensure the machine work properly and safety;
*Easy exchangeable wear parts give you a virtually indestructible machine which is easy to maintain;
*Turnkey automatic,clean & low noise technology;Cost-effective maintenance design makes SHREDWELL as the most reliable tire recycle machine provider.

Materials can be processed by Shredwell top quality tire recycle machine:
*All types of tires--- Car tires, van tires, truck tires, mining tires, OTR tires etc;
*Metal--- Car body, Baled aluminium,Scrap steel, Paint bucket;
*Cables--- Copper cable, Aluminium cable,etc;
*E-waste---Home applicance( Refrigerator,Printer, Washer,Air Conditioner),PCB board;
*Wood/Timber--- Pallets, Waste wood borad,stalk or biological straws;
*Solid Waste--- Mixed Household & Commercial Waste - RDF/SRF Production
•Paper & Cardboard - Confidential Documents, Production Waste, Packaging Materials etc.
•Plastics - Various rigid and flexible plastics including Mouldings, Purgings/Lump, Profiles, Films etc.
Technical Specification
| | | | | | | | | |
| --- | --- | --- | --- | --- | --- | --- | --- | --- |
| Double shaft shredder | DSS2400 | DSS1800 | DSS1600 | DSS1300 | DSS1200 | DSS1000 | DSS800 | DSS600 |
| Motor | Siemens | Siemens | Siemens | Siemens | Siemens | Siemens | Siemens | Siemens |
| Power | 110kw*2 | 75Kw*2/55Kw*2 | 45Kw*2 | 45Kw*2/37Kw*2 | 45Kw*2/22Kw*2 | 22kw*2 | 15kw*2 | 7.5kw*2 |
| Voltage | as per request | as per request | as per request | as per request | as per request | as per request | as per request | as per request |
| Cutting ChamberL*W(mm) | 2400*1800 | 1804*1410 | 1604*1360 | 1304*920 | 1204*920 | 1000*680 | 804*686 | 800*452 |
| Blade Diameter | 200mm | 750mm | 560mm | 450Kw | 450mm | 350mm | 350mm | 284 mm |
| Equipment DimensionsL*W*H(mm) | 7300*2438*1046 | 5870*2450*3890 | 5260*2420*3890 | 5120*2010*3100 | 5010*1710*3100 | 3800*1400*2100 | 3327*1030*2075 | 2800*1200*2300 |
| Equipment Weight | 56000kg | 25000Kg | 2200Kg | 17500Kg | 15500Kg | 6000kg | 4700kg | 2000kg |
| Hopper OpeningL*W*H(mm) | 3711*2438*1046 | 2790*2450*1100 | 2760*2410*1100 | 2050*1650*1000 | 1850*1650*900 | 1300*1400*700 | 1120*1257*800 | 1100*1200*800 |
| Final Product | 50-200mm | 50-150mm | 50-150mm | 50-150mm | 50-150mm | 50-150mm | 50-150mm | 50-150mm |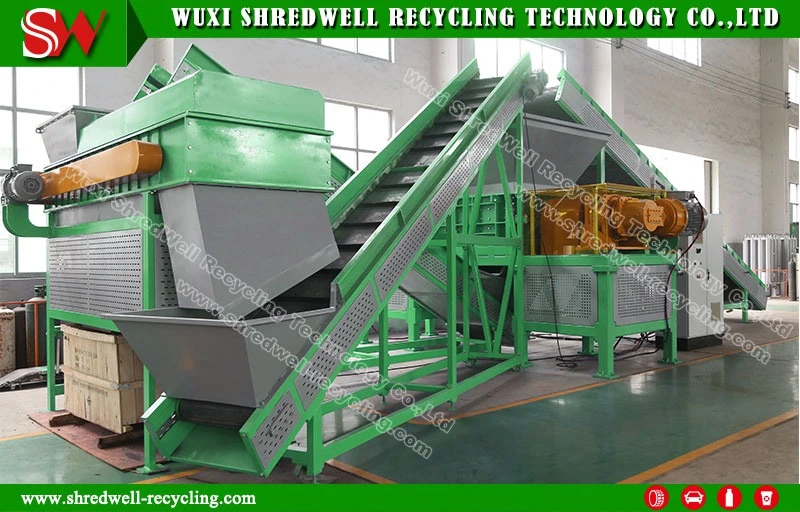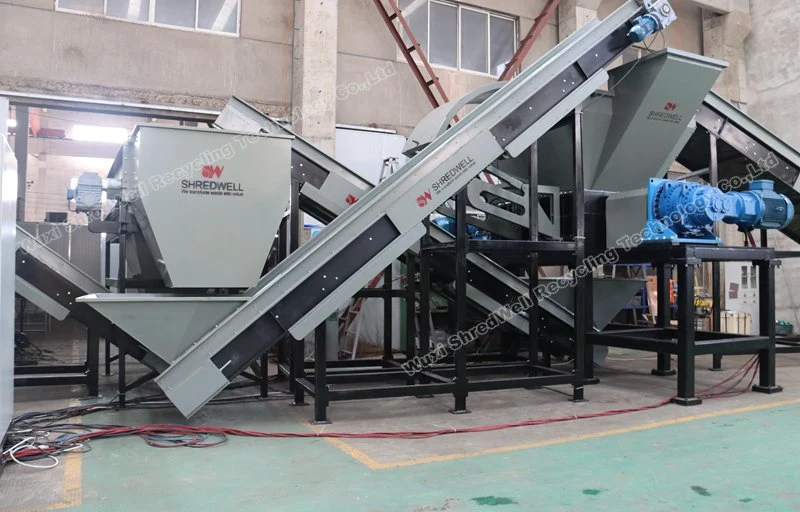 Shredwell Services
Pre-sale support
*Shredwell is composed of experienced specialists, our sales are engineers too, we will offer a suitable solution according client's requirements in time and 24 hours service is probided.
*On-site inspection

After-sale service
*Production process follow up, on-processing products' pictures and technical report are supplied regularly to make sure the contracted production schedule.
*Shredwell skilled technicians are available to assist with onsite installation, commissioning & training on request. This will enable customers to optimize the performance of their new plant. Customers will be briefed on all aspects relating to operation and maintenance by a Shredwell technical. Dimensional drawings together with service requirements will be provided to delivery of the tire recycle machine which make time for our customer to prepare the site and commence production in time.

Technical support
*Shredwell tire recycle machine enough hardware resource especially for large-scale production lines, clients can carry out installation, commissioning and acceptance before delivery.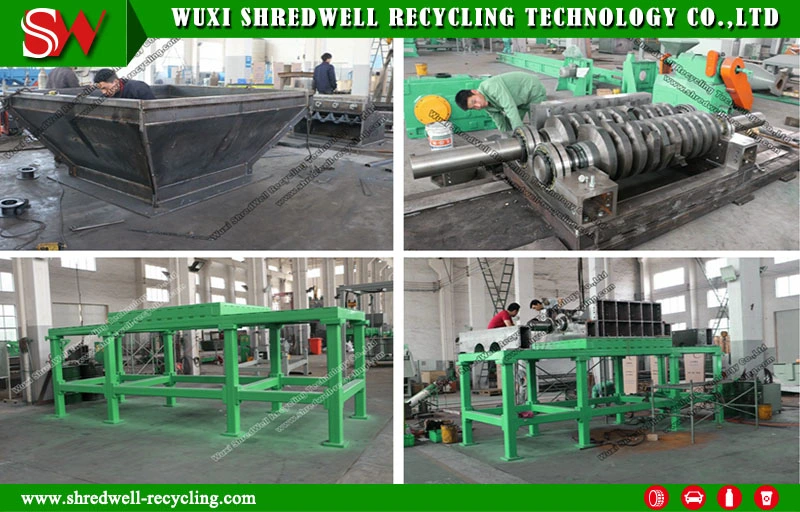 Delivery &Shipping for tire recycle machine
1.A layer of plastic wraps to protect machine from duct, moisture and corrosion.
2.Wooden case is used as the outside package. Or according to the customer requirements.
3.Excellant logistic team to guarantee the cutter to be safely shipped to customer warehouse, no extra fee on export or import on custom.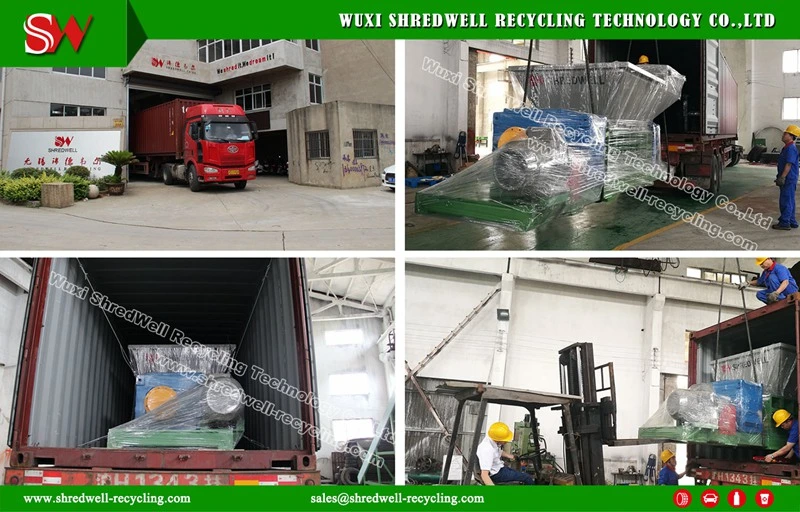 Company Introdution
Wuxi Shredwell Recycling Technology Co.,Ltd is an integrated enterprise that is committed to developing, designing, manufacturing, selling and installing recycling machinery. Our tire recycle machine is based on self-owned intellectual property and has advanced European and American technology.
Shredwell has now been in the shredding and recycling industry for more than 10 years. Our engineering team has around 15 years experience in designing and manufacturing shredding and recycling systems for scrap tires,scrap metal,waste wood,plastic...Our workforce has more than 5 years experience in manufacturing shredding machinery.Our company has advanced technologies, an experirenced workforce and excellent innovative management systems designed to manufacture safe, energy-saving, stable and reliable shredding machine systems.
Shredwell is located in Wuxi, China, covering an area of more than thirty thousand square meters, and has a modernized technology center and all kinds of processing and testing equipment with more than 100 experienced staff including over 30 professional engineers. Our main focus is to provide our customers cost-effective tire recycling system, metal recycling system, wood recycling system,e-waste recycling system, solid waste recycling system etc.
Our experienced after-sales service team can ensure the most timely installation, testing and training in the customer's workshop. Our mission is to provide our customers the best recycling solutions with high quality service and technology.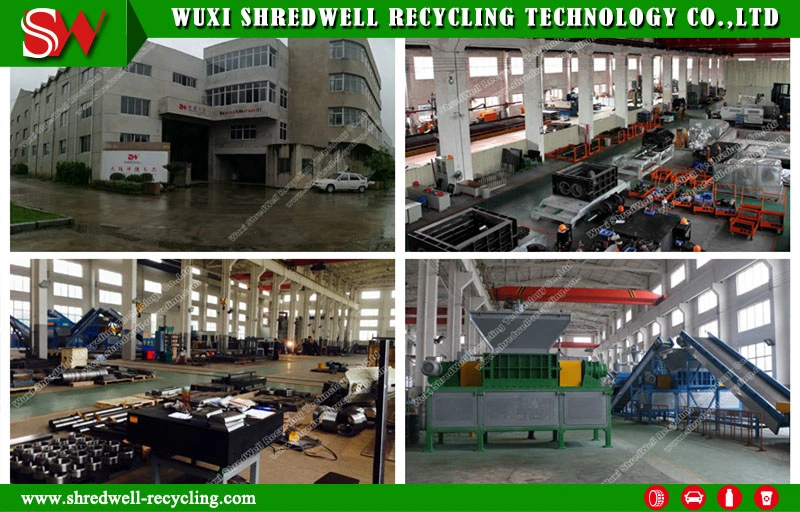 FAQ for tire recycle machine
1) Are you a factory or trade company?
We are professional recycling shredder factory with the modernized management and quality control system, experienced production team, advanced manufacturing and processing facility. Export proportion around 50%. .
2) How can I trust your company?
a. modernized management and quality control system, experienced production team, advanced manufacturing and processing facility.
b. famous brand component as our standard configuration, like Siemens Motor, Tongli or SEW reducer, Siemens PLC and Schneider component. All parts processing by CNC machining to warranty the precision.
c. Assessed by third party-national test centre. national patents for all equipment, also CE, ISO.
d. Welcome to inspect anytime. We are near to Shanghai airport.
e. About the machine, we do much better on:Wear plates, seals, structure design, pressure head.
3) How about the test running & installation?
Before the order, welcome you to come to testing all machines in our factory, we have ready machines all the time.
Before shipping out your machines, we will invite you to come to test your machines, when you are satisfied; we start to pack and delivery.
We will send our enginner team(At least one mechanical engineer and one electrical engineer) to your country to help you to install the machine, and commission as well as training your workers.
4) Any warranty?
Under the proper usage, 1-3 year for whole machine.
5) Is your price competitive?
Only good quality machine we supply. Surely we will give you best factory price based on superior product and service.