Waste Tire Recycling Rubber Machine / Rubber Powder Making Machine
Introduce of waste tire recycling rubber machine:
The full-auto scrap rubber tires recycling machine line includes rubber crusher machine and accessory machines,accessory machines consist of debeader,whole tire cutter,whole tire shredder,conveyor equipments,shaking screen,magnet separator,fiber separator,if you need the fine powder,you still need the fine grnder machine.
1.To granulate radial tires into fine rubber crumb of 40~120 mesh with steel and fiber completely recycled at ambient temperature.

2.The input is whole tires,after the processing,steel is completely separated and fiber can be separated up to 99% or above.The finish product is high and competitive in the market.

3.Tight construction, small space and simple technique flow.

4. Low energy-consuming and good performance-cost ratio

5.Hight automatization, fewer labours requirements.

6.Reasonable construction,easy operation and low rate of breakdown

7.Environmental-protection,no pollution(no waste gas,no waste residue,no polluted water),meeting the environmental requirements of the government

Pictures of waste tire recycling Machine:

the whole line of full-autometic waste tire recycling machine: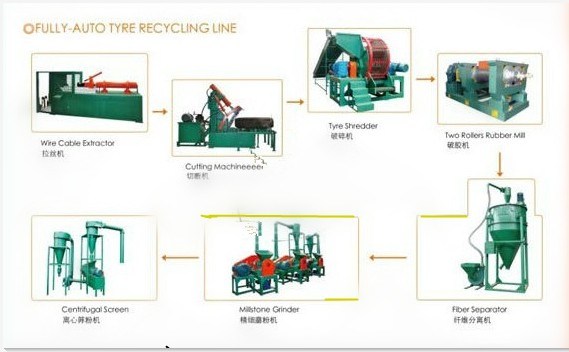 Main machine-whole tire shredder(ZPS-900/ZPS-1200):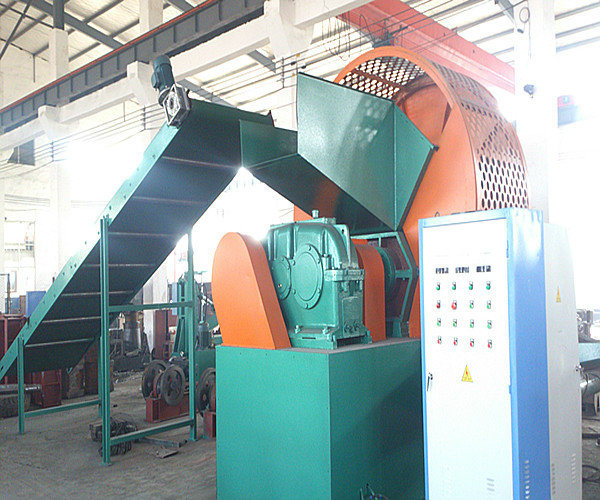 1) Model: ZPS1200
2) Size of feeding: ≤1200 whole type
3) Size of Discharge: < =60*60mm
4) Capacity(kg/h): 2500-3000
5) Main motor (2 motors ): 55KW*2=110KW ,
6) Dimension(L*W*H)(m) : 3.8*2.1*3.5
7) Number of knife: 20 PCS
8) Rotary speed: about 28 r/min
9) Weight(t) :16500kgs
10) REMARKS: 10.1 gear box: hardness teeth, Model: ZSY315, not ZQ series
10.2, knives: material: H3 , Germany standard , forged, heat treatment by high frequency,
Main machine-tire crusher machine(XKP-400/SKP-450/XKP-560)


Analysis for output :
1).XKP400 rubber crusher:
Output: 4500-6000kg/24 hour for about 20 mesh granule.
2).XKP450 rubber crusher:
Output :7000-12000kg/24 hour for about 20 mesh granule.
3).XKP560 rubber crusher:
Output : 10000-17000kg/24 hour for about 20 mesh granule.

other main machines
debeader: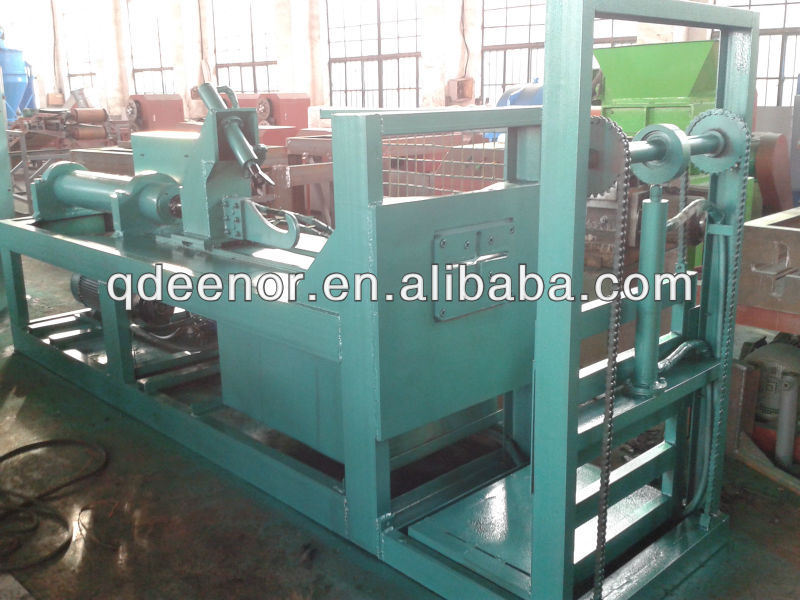 tyre cutter: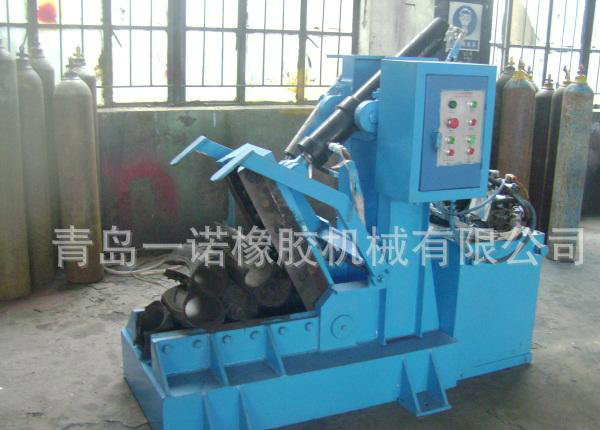 full-auto waste tire recycling line: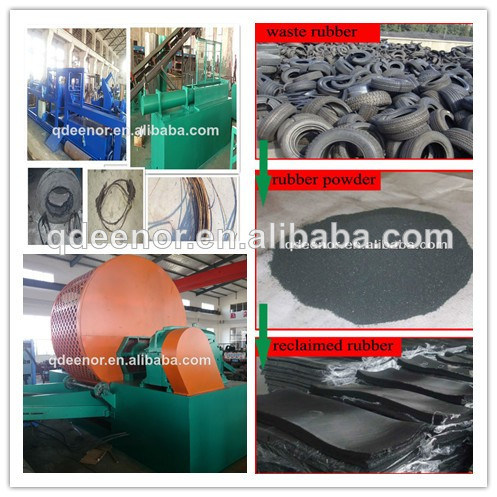 Characteristic of waste tire recycling machine:
1. Environmental protection and energy saving: no waste water, waste gas, using circulating water cooling. Plasticizing powder
consumption per ton of 100-170KW;
2. Safety: atmospheric pressure conditions of production, the operator feeding on the ground;
3. Easy operation: PLC control, man-machine interface operation;
4. Each module has a real-time measurement value of feeding, discharging, water temperature into the PLC control system;
5. Each module individually sets temperature, temperature error within ± 1 °C;
6.Using electromagnetic heating or heat conduction oil furnace in two ways;
7.Products do not stick on conveyer, no need to clean up, with production while cleaning function;
8.Process parameters of memory function, memory function formula, etc;
9.Easy installation and maintenance, safe and reliable and remote maintenance.

Single hook debeader:
Model: LS 1200
Capacity:20-40 tires/hour
Pulling force(T): 13
Max.tire diameter 1200mm
Power(KW): 11KW
Stroke distance: 1300mm
Dimension(L*W*H): 3.6*0.78*1.02
Weight: 3500KG

Tire cutter machine:
Model :WTC1200
Capacity:-3500kg/h
Motor power:5.5kw
Tire range:Max 1200mm
dimension:2080*1000*2130mm
Finber separator:
Model :FS110
capacity:500kg/h
Motor power:5.5kw
dimension:1.5*1.5*3.4(m)
weight:about 1.5T
| | | | |
| --- | --- | --- | --- |
| Parameters/version | XKP-400 | XKP-450 | XKP-560 |
| Front roll diameter | 400(groove) | 450(groove) | 560(groove) |
| Back roll diameter | 400 | 450 | 510 |
| Roll length | 600 | 650 | 800 |
| Front roll surface speed (m/min) | 17.32 | 23.2 | 25.56 |
| Friction ratio | 1:1.38 | 1:1.38 | 1:1.30 |
| Max. nip | 8 | 8 | 8 |
| Feeding capacity per (kg) | 200-300 | 600-800 | 1500 |
| Power(kw) | 45 | 60 | 75 |
| Size(l*w*h) | 3950*1800*1780 | 4770*1846*1835 | 5064*2284*1978 |
| Weight(kg) | 7000 | 12000 | 19000 |