Yatong PE PP HDPE Film Recycling Machine / Plastic Crushing & Washing Machine / Crusher / Shredder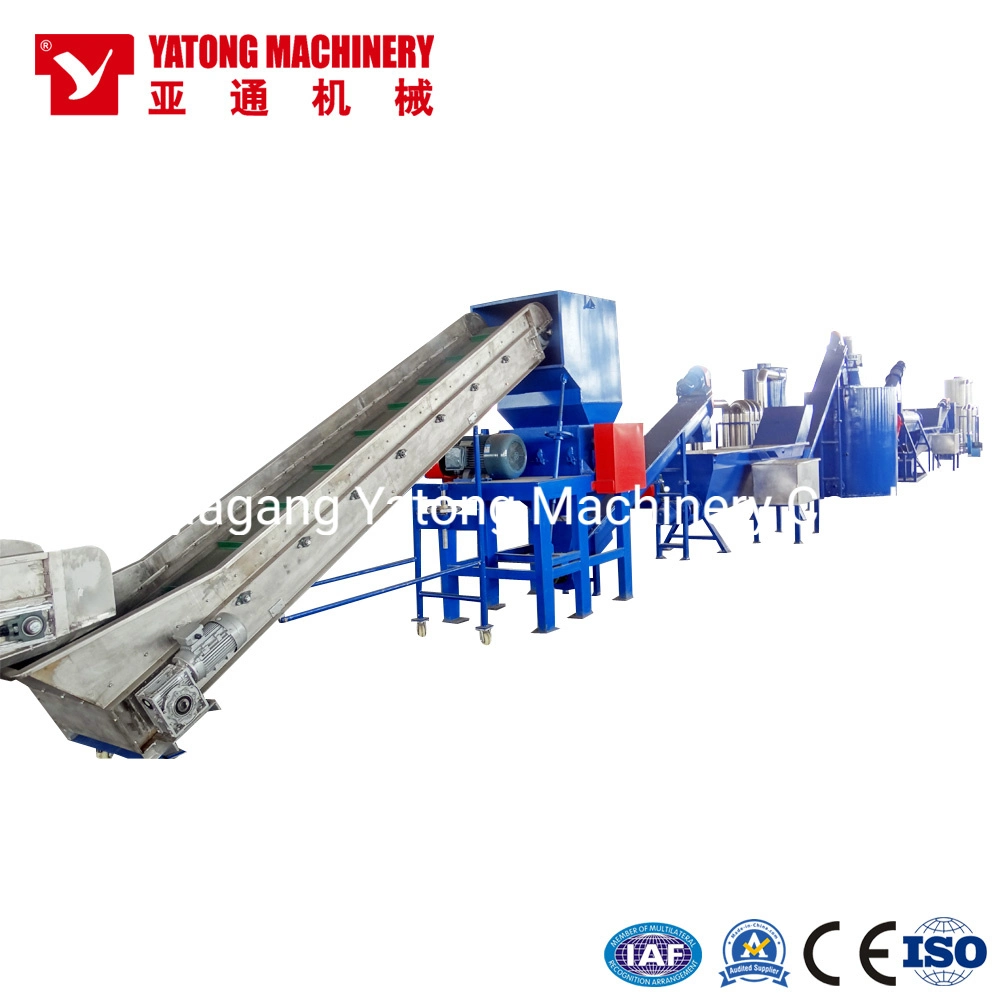 New type waste film washing machine / PE film washing machine with high out and low consumption
Features:
1) Environmentally friendly composite plastic-cellulose fiber materials
2) The knievs can be shaped using carpentry and construction tools
3) Applications: Indoor decoration film, packing film, pallet making production, agricultural film etc.
4) Capacity: 300-1000kg/h
5) Use: Clean PE PP film, dirty PP PE film, PP PE film with oil.

Consideration for our customer we will design different PP PE agricultural film washing line for our customer:
1)We provide different capacity for our customer: 300-1000kg/h.
2)According to your material, you may choose different device or you may choose full automatic line or semi-automatic line.
3)We providing turn-key project for our customer. Design-product-installment-testing.
4)Based on your workshop condition, Our design always matched to your workshop mostly.
WASTE PE. PP FILM CRUSHING WASHING LINE(OUTPUT: 500-700kg/hr)

NO

component items

POWE(kw)

L*W*H(mm)

WEIGHT (kg)

QTY

1

Belt conveyor

1.5

6000*900*600(3200)

600

1

2

PS-1000 Crusher with water

45

1650*1660*2800(2800+920)

1700

1

3

Screw Loader 1(Φ 500)

11

3500*800*1300

700

1

4

Single Screw friction washing

11+0.75

5300*1300*2150

2200

1

5

Screw Loader 2(Φ 500)

11

3500*800*1300

700

1

6

Floating Tank

2.2+1.1+1.5

6000*1200*2150

2300

1

7

Screw Loader 3(Φ 500)

11

3500*800*1300

700

1

8

Horizontal dryer

30

2300*1750*1900

2200

1

9

Silo

1500*900*3400

130

1

10

electrical control system

800*500*2000

520

1

1000*550*1150

120

1

1, length of production line: 27 m;
2, installed power: 128 kw;
3, equipment noise: 1 meter≤ 80dB; 5 meters≤ 75dB;
4, water consumption for recyling 1T waste material: 1m³ (circulating water);
5, oil burning boiler steam volume: 300kg/h ; steam pressure 0.7MPa;
vapor temperature: 170° C; average oil consumption per hour: 15-25L;