600-1500Kg per batch Fruit Meat Processing Drying Equipment, Meat and Vegetable Dehumidify Equipment

KINKAI Heat Pump Drying Machine Introduction:
KINKAI heat pump drying oven is a device that transfers heat from a colder area (ambient temperature) to a hotter area (drying chamber) by using mechanical energy, as in a refrigerator.
How Does The drying machine Work?
1, Dryer evaporator of refrigerant absorb the air from outside.
2, Then compressor works that make the air temperature rise.
3, Heat exchanger change the hot air into drying chamber.
4, Final material will be dried by the hot air circulating in drying chamber.
Video link about dryer working principle:
Https://youtu.Be/K6WMogw0GDs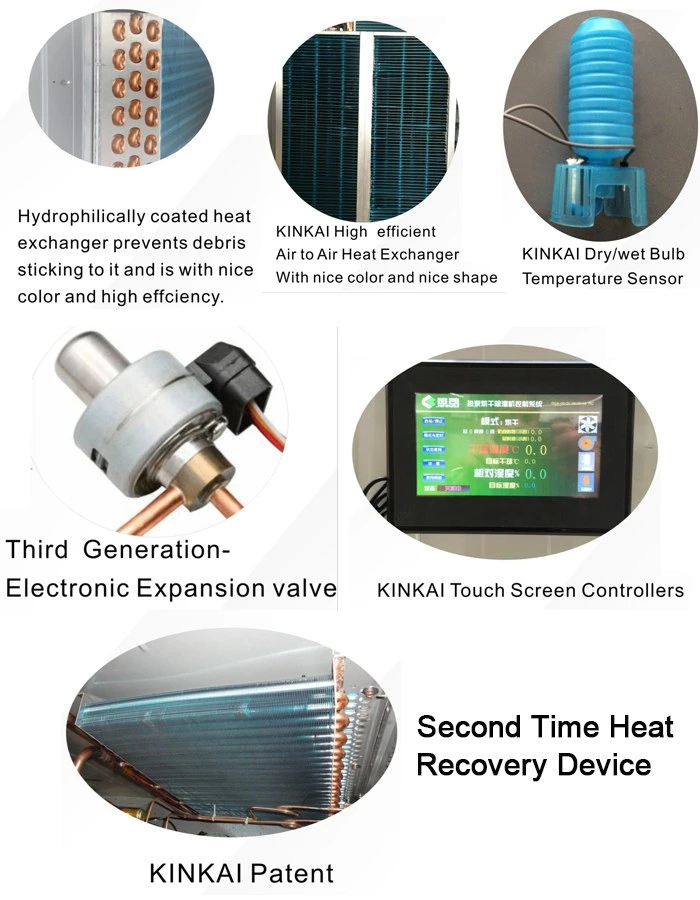 KINKAI Heat pump drying machine has large capacity and easy to operate characteristics.Mainly suitable for dehydrated vegetables, fruits etc.Agricultural and sideline products, Chinese herbal medicine as well as chemical materials dry.
KINKAI drying machine consists of a trolley, drying tray, heat exchanger, blower fan, LCD controller cab inet and drying chamber, The entire machine is made of insulation material and stainless steel, fully satisfying food hygiene requirement.
Model:JK03RD, JK06RD, JK12RD
Power Supply:220V/1PH/50HZ or 380V/3PH/50HZ
Type:75% air source + 25% electric power
Max.Temp:75C
Working Temp:-10~45C
Functions:Heating / Cooling / Dehumidify
Dryer Type:Batch Type

KINKAI heat pump dryer Technical Parameters
Single dryer + drying chamber
Model
Unit
JK03RD
JK06RD
JK12RD
power input
KW
4.8
8.5
15.0
power supply
V/PH/HZ
380V/3PH,50/60HZ
380V/3PH,50/60HZ
220V/1PH,50/60HZ
Rated current
A
9.6A(380V),22A(220V)
17.0
30.0
Heating capacity
KW
10.5
21.0
42.0
Cooling capacity
KW
7.8
18.0
50.0
Dehumidify
L/H
12.0
25.0
50.0
Max. temperature
ºC
≤75
≤75
≤75
Working condition
ºC
0-43
0-43
0-43
Electric shock protection grade
1
1
1
Max.exhause pressure
MPa
3.0
3.0
3.0
Noise
dB(A)
75
75
75
Power consumption/H
KWH
4.8
8.5
15.0
Electric heater
KW
3.0
6.0
12.0
Blowing type
/
HORIZONTAL BLOWING 360°
Dimension of dryer
MM
1675×860×1280
1760×1060×1280
2120×1360×1590
Weight
KG
180
285
480
Installation Advantage
1.Easy to install and remove, covers small area , can be placed indoors or outdoors.
2.No-pollution, no burning, noemissions. Belong to environmental protection products.
3.Safe and reliable operation:There is no traditional dryer (coal, fuel, electric heating) may exist flammable,explosive,short circuit and other dangerous.It's a safe and reliable semiclosed drying system.
4.Long service life,low maintenance cost,developed in the traditional air conditioning technology. Mature technology,stable performance,reliable,long service life.Automatic no manual operation, intelligent control.
5.Convenient to operation,automatic PLC control.
Buying Guides
Recommend Dryer+Drying Chamber Sizes
Item
Description
Product Capacity
Drying Chamber size
1
One unit JK03RD dryer + drying chamber
300Kg / batch
4000*2000*2200mm
2
One unit JK06RD dryer + drying chamber
600Kg / batch
6000*2800*2200mm
3
One unit JK12RD dryer + drying chamber
1300Kg / batch
6000*3000*2200mm
4
Two units JK03RD dryers + drying chamber
1200Kg / batch
7000*2200*2200mm
5
Two units JK06RD dryers + drying chamber
1500Kg / batch
10000*2800*2200mm
6
Two units JK12RD dryers + drying chamber
3500Kg / batch
10000*3000*2200mm
Application
Dehydrator Use for :
Dry vegetables like Radish, lettuce, pumpkin, carrots, spinach, cassava etc;
Dry fruits like Apple, lemon, mango slices, dried longan, dried longan etc;
Dry meat: fish, Sausage, jery beef, duck, ham ect;
Others it can dry noodle, wooden, stick incense, herbs, flowers ect.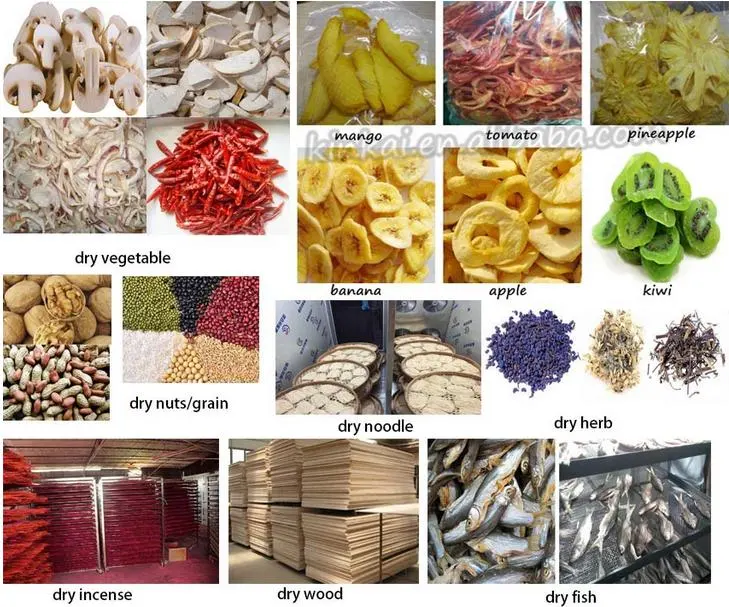 Packaging & Shipping
For heat pump dryer parts---with plywood
For drying chamber +trolleys
If shipped with 20ft container or 40ft container, no packing;
If shipped with LCL( less than container load), packed in plywood.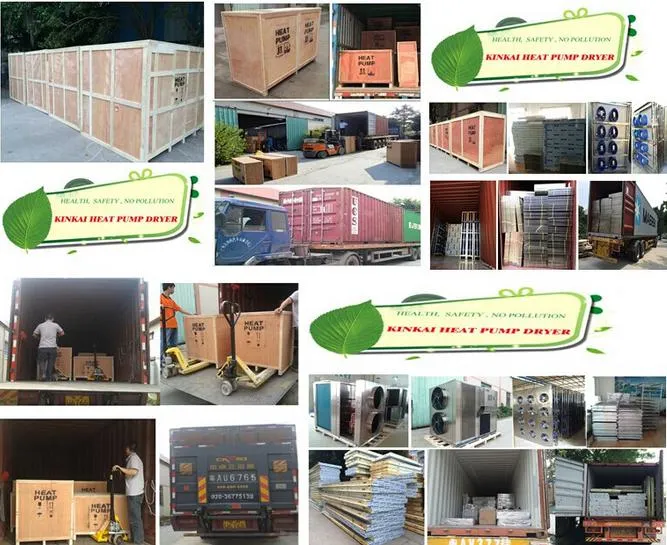 Company & Customers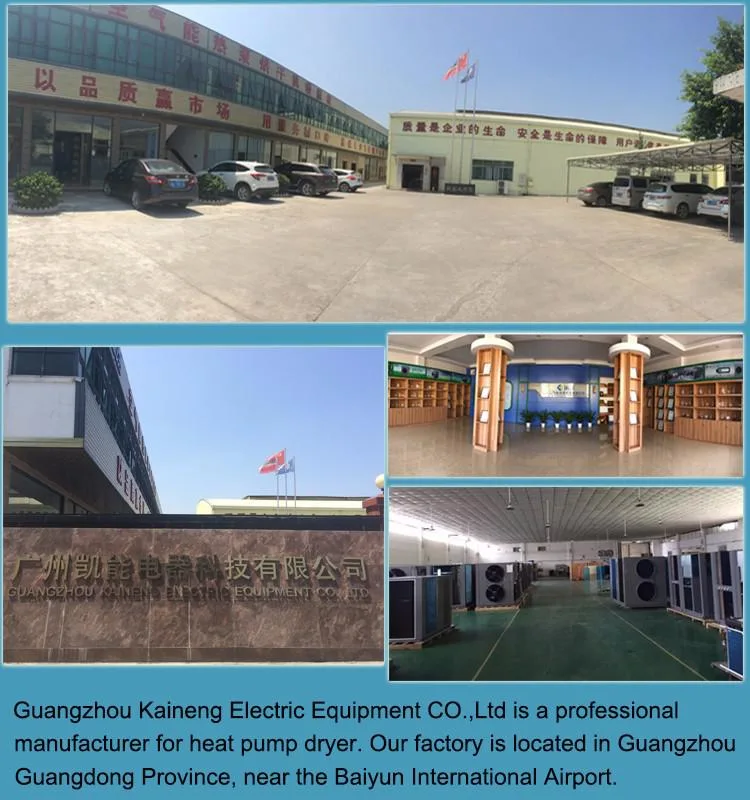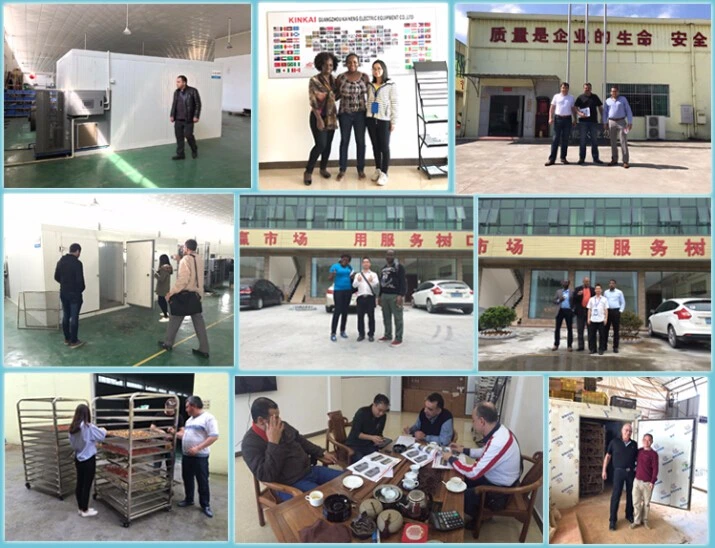 If you are interested in our product , please contact us for more information, such as catalog and vedio etc.
Crystal, Lin
Add: Huadu District, Guangzhou City, Guangdong Province, P.R. China
Phone: +86+13723539881
Our services
A. Technical service
1, We calculate the capacity and recommend the best models.
2, We supply you the professional refrigeration technical support and electronic technical support for your installation, debugging and operation.
3, We supply the spare parts and technical support in & after the warranty time.
4, We supply the training course to your workers at our factory if you need.
B. After-sales service
1, Technical support for your installation, operation and maintenance.
2, One year's warranty, and you can pay for extended warranty.
3, Spare parts and technical support at most economic prices after the warranty.